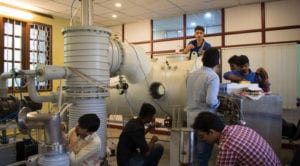 Bellatrix Aerospace, an SID (Indian Institute of Science) incubated company, has raised U.S.$3 million in a pre-Series A round led by IDFC-Parampara, StartupXseed, Karsemven Fund (KITVEN) and Survam Partners (Suman Kant Munjal family office).
Other notable investors participating in the round include Deepika Padukone (through KA Enterprises LLP), GrowX Ventures, CIIE Initiatives (an incubator at IIM Ahmedabad) and SINE (an incubator at IIT Bombay).
Eiliant Advisors was the sole financial advisor to Bellatrix for this transaction.
A company spokesperson said, "This funding will help Bellatrix to space qualify our products soon. During the coming months, we will be subjecting our thrusters to rigorous ground qualification tests and also work on key innovations that will make our products stand out. We will also be expanding to key global locations. We are also onboarding strategic partners and collaborations for in-orbit demonstration of our products."
"We believe in "Great Product at a Great Price" as the mantra for success. Today, the space industry is like a giant jigsaw of opportunities with global New Space companies each having distinctive capabilities, collaborating to put all the pieces together and bring value into the ecosystem. Coming from India, we leverage on our capabilities in fast and frugal innovation, drawing inspiration from ISRO and mentors from ISRO, Indian Institute of Science," he added.
Jatin Desai, General Partner at Parampara Capital, said, "Bellatrix is at a cusp of commercializing path breaking innovation in space technology which has a huge addressable market globally and we are excited to partner with them by leading this round of funding along with all the other marquee investors who participated in this round."
Mr. B. V. Naidu, Managing Partner at StartupXseed Ventures, said, "Bellatrix, as an innovative Space Technology company resonates well with our earlier unique and deep technology investments. Emerging out of India and with global applications, their innovations in the area of Thrusters, have tremendous opportunity worldwide. We are proud of the team and looking forward to joining the journey with them."
About Bellatrix
Bellatrix was founded in 2015 by a team of young engineers with a vision to develop advanced in- space propulsion systems and rocket propulsion technologies. Over the last seven years, the team, with support from experts and advisors have worked on development of Propulsion Systems (Thrusters) for all classes of satellites ranging from heavy (>2 ton) to micro- and nano-satellites. These in-space propulsion systems add operational life and enhance mission capabilities in satellites. This leads to increased revenue for the satellite operator.
Since 2016, Bellatrix started working with the Indian Space Research Organization (ISRO) and other undisclosed customers, with plans to tap into the global space industry. In 2017, the company received a TDB National Award from the Honourable President of India for 'development of technology with potential for commercialisation'
Details of the Technology
Like cars need engines to move, satellites need propulsion systems to manoeuvre in space. Bellatrix is a full suite solution provider for in-space propulsion systems. Satellite manufacturers are transitioning from traditional chemical propulsion systems to electric propulsion or chemical systems incorporating greener high performance propellants.
In the past few years, the space industry has witnessed a spurt in the number of companies, satellite, operators working on missions for Earth observation, imaging, navigation and technology applications with an increased thrust towards the utilisation of the low earth orbit. Bellatrix is fulfilling propulsion requirements of the new mission operators and of the incumbent players as the new space economy takes off.