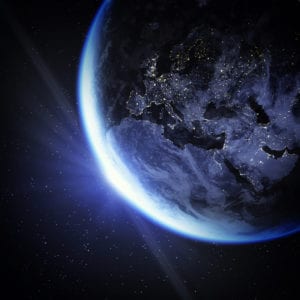 Kinéis, a CLS Group spin-off, a subsidiary of the Centre national d'études spatiales (CNES), has announced the signing of two strategic partnerships, one with Objenious, a public IoT operator part of Bouygues Telecom, and another with the Wize Alliance (SUEZ, GRDF, Sagemcom, etc.).
These alliances reinforce Kinéis' position as a strategic player in the Internet of Things.
At the same time, Kinéis, supported by CNES, is reinforcing its technological strategy as supervising manager for the industrial space project to manufacture 25 nanosatellites and place them in orbit. Kinéis relies on Thales Alenia Space to define the system architecture, build ground stations and payloads, and on Hemeria (ex-Nexeya) to build platforms and integrate satellites. Technical specifications have been finalised and satellite production will start on 21 June 2019.
Kinéis has positioned itself as a partner with terrestrial-network operators.
Obviously, it would be difficult to cover all the points of the globe with a network based solely on terrestrial infrastructure. With current terrestrial networks, it is impossible to cover the seas and oceans and, likewise, it is not cost-effective to deploy antennas in very isolated areas or those with very little traffic. As a result, hybrid connectivity between satellite and terrestrial networks will now make it possible to connect mobile objects anywhere on Earth, even areas that currently do not have terrestrial infrastructure coverage. This hybrid connectivity provides a continuous link with the object tracked. The stakes are high—by 2030, the number of connected objects in the world will exceed 30 billion.
Kinéis is therefore proud to announce the signing of a strategic partnership with Objenious by Bouygues Telecom, an IoT terrestrial operator and founding member of the Lora Alliance®, Styckr, designer of embedded IoT systems, and Wisebatt, which offers a unique IoT prototyping platform. This partnership will enable Objenious by Bouygues Telecom to eventually offer all its customers global connectivity for the Internet of Things (IoT).
Alexandre Tisserant, Kinéis CEO, said, "This partnership demonstrates that the experience of Kinéis' teams and the quality of our service offer meet the needs of companies that want to use IoT to invent the products and services of tomorrow. Connectivity must be accessible everywhere on Earth for many sectors such as industrial IoT, logistics, and stock optimization as well as safety at sea, in the mountains, scientific research, sustainable fisheries management and tracking of goods. We are delighted with this partnership with a company as prestigious as Bouygues Telecom, via its terrestrial IoT operator."
Philippe Cola, IoT Architect at Bouygues Telecom, said, "Through the partnership signed with Kinéis, Objenious by Bouygues Telecom is positioning itself as a global IoT operator. Synergies between satellite and terrestrial networks will enable us to offer global coverage to all our partners and customers so that their connected objects can be reached anywhere, anytime and at the lowest cost."
Kinéis is also proud to announce that it has joined major companies such as SUEZ, GRDF, Sagemcom and Accenture as part of the Wize Alliance.
The Wize Alliance brings together public and private operators, manufacturers of connected objects and electronic components, integrators, start-ups and academics. Its goal is to develop Wize technology for industrial IoT, while promoting the development of an ecosystem of connected objects using the Wize protocol and supporting the standardisation of wireless and long-range radio technologies.
The Wize IoT technology used by manufacturers for more than 10 years has proven its effectiveness and usefulness in several use cases such as smart energy, water metering, waste collection, air monitoring and building-control systems. Networks using this technology already connect more than seven million objects worldwide and continue to grow. With Wize technology already proven in Europe, particularly in France and Spain, Wize Alliance's ambition is to ensure the future by developing new markets and therefore welcomes Kinéis to its ranks.
François Moreau, Sales Director of SUEZ Smart Solutions and Development Director at Wize Alliance, said that, "Improving connectivity services by complementing terrestrial networks and securing their connectivity are major challenges for the success of IoT projects. We are delighted with the arrival of Kineis in the Wize Alliance which will enable us to accelerate the development of new hybrid solutions."
As announced last September, Kinéis has chosen Thales Alenia Space and Hemeria (NEXEYA Group) to manufacture its constellation of 25 nanosatellites, while Kinéis, with the support of CNES teams, will be the supervising contractor for the system, to be placed in orbit and commissioned in 2022.
Jean-Yves Le Gall, CNES President, commented that, "The space sector is in constant flux, with the emergence of new state and private actors. CNES' innovation strategy, which aims to do better, faster and cheaper, responds to the new opportunities that are being created and enables CNES to maintain its leadership position. By supporting Kinéis, CNES is supporting a French company that will effectively offer more efficient and less costly connectivity, based on the ARGOS system. CNES is pleased that Kinéis has got off to a good start, both technically and commercially—a sign that once again, space is useful to society and that its access can be democratised. Our support for Kinéis reflects France's desire to strengthen the space sector to spur economic development and promote France's reputation for excellence around the world. "
The Kinéis constellation will be operational in 2022, however, Kineis is already operating the ARGOS system (which has seven satellites in service, with one more to come this year). It offers all leaders of connected object projects the opportunity to test its connectivity with priority access. Upon entering the Space Priority Programme, personalised support will be provided for launching significant pilot projects. These demonstrations will give the selected companies a clear competitive edge.
Kinéis, a new major player in French New Space, created last July with the support of CNES and CLS (Collecte Localisation Satellites), aims to become a major player in New Space and to enable several million objects to be connected, wherever they are on the globe, by 2030. Professionals and the general public alike will have access to a global satellite location and connectivity service that is both easy to use and affordable.