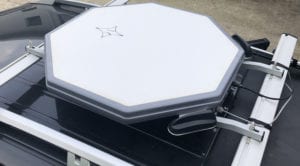 Paradigm, Lepton Global Solutions and Kymeta are proud to announce that the MANTA+ solution has been adopted by the United States Special Operations Forces community and is now commercially available for other users.
This fully integrated satcom and LTE solution ensures constant connectivity by seamlessly switching between satellite, cellular and Wi-Fi networks.
Operational both as a comms-on-the-pause terminal and a comms-on-the-move terminal, the MANTA+ is self-pointing and provides automatic network switching via the integrated LTE router. The unit has no moving parts and is discreet, the user just adds power.
Any device connected to the MANTA+ (whether wirelessly or via a physical port) will be routed via Wi-Fi, cellular or satellite depending on real time availability, service weighting and/or least cost.
Extremely flexible, the MANTA+ integrates the PIM® (Paradigm Interface Module) and can operate on any network, supporting all major modem types and a range of BUC powers.
The MANTA+ is a complete, ruggedized, low power, one case outdoor terminal. It is airline checkable and simply powered either via DC (vehicle/vessel) or from regular AC electrical power.
"To be adopted by such an experienced customer operating in truly challenging environments clearly demonstrates the capability of this terminal for both government and commercial sectors. The MANTA+ also demonstrates how the PIM is continuing to make satcom simple for all users." said Ulf Sandberg, Managing Director of Paradigm.
"Paradigm's interface and integration work has further evolved the capabilities of Kymeta's next-generation antenna," stated Rob Weitendorf, a Managing Partner at Lepton Global Solutions. "The interoperable MANTA+ fills a significant gap in mission critical communications operations for our SOF customer."
"We are excited to be partnered with Paradigm and Lepton Global Solutions to bring the MANTA+ to the commercial market. Paradigm's innovative approach has resulted in a fully integrated satcom solution that is flexible and easy to use, and will serve multiple markets and applications," added David Harrower, Sr. Vice President of Global Sales, Kymeta.