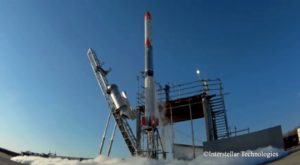 Japanese New Space launch vehicle startup Interstellar Technologies conducted a successful test launch of its Momo-3 sounding rocket at 05:45am local time on 5 May 2019 when it reached an altitude of 113 kilometres within four minutes of being lofted from the northern Japanese island of Hokkaido.
The Momo-3 sounding rocket was 10 metres tall and weighed one ton, and splashed down in the Pacific Ocean – as planned – after it reached apogee in space. Momo-3 had a 20 kilogram payload on board that measured gravitational forces on the sounding rocket.
The launch of Momo-3 was supposed to occur on 1 May 2019, but was delayed after Interstellar Technologies engineers found several faults on the sounding rocket requiring repair.
Interstellar Technologies was founded in 2013 by a group of investors, and employs a staff of twenty. The Momo sounding rocket has been successfully tested in 2017 and 2018, but this is the first time that the vehicle has reached space. The Momo sounding rocket is made entirely of off-the-shelf components and reportedly cost less that U.S.$1 million to build, but is too small for commercial operations. For that Interstellar Technologies is developing its Zero satellite launch vehicle that will likely cost at least tens of millions of U.S. dollars to build and test.
"We have reached a new phase in the history of the development of space," said Takahiro Inagawa, President of Interstellar Technologies, in an interview with the Nikkei Asian Review.
"I expect the space business market will grow as the rocket is used for interesting things," added Takafumi Horie, a leading startup entrepreneur in Japan and one of Interstellar Technologies' investors.
"If a small, inexpensive Japanese rocket can be launched, it should provide a tailwind from satellite startups," said Hidetaka Aoki, in charge of space investments at Tokyo-headquartered investment fund Global Brain, also speaking to the Nikkei Asian Review.
Interstellar Technologies is the leading Japanese New Space launch company at present, but is competing against the likes of U.S.-based Rocket Lab that successfully launched three nanosatellites for the U.S. Air Force on 5 May, and Chinese New Space startups OneSpace and Linkspace among others. All of these companies are seeking to capture a slice of what many industry analysts believe will be a boom in small satellites over the next decade.
Interstellar Technologies intends to develop and test its Zero launch vehicle in time for a 2023 maiden launch.