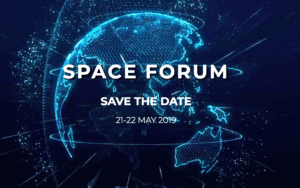 On May 21st and 22nd, space and digital experts will share their knowledge and discuss the latest trends during the next edition of Space Forum. Organised in parallel with ICT Spring, a global tech conference, Space Forum will take place at the European Convention Center, Luxembourg, at the very heart of Europe. The organizers have announced an impressive list of international speakers, companies and innovative startups, who will participate in the event.
The recent launch of the Luxembourg Space Agency, space companies setting up their headquarters in the country, the spaceresources.lu initiative and the different conferences organised throughout the year all contribute to making Luxembourg a  recognised player in the space race. Actually, Luxembourg has a long history in the space sector, notably in the satellite industry and has an ever-growing ICT sector. In order to discuss the latest space trends, from infrastructures to data management and IoT, the organisers have brought together space experts from all around the world who will share their expertise and latest innovative solutions next May.
Space, through its many applications, has the ability to conceive tools that clearly contribute to the security of citizens. On May 21st, the morning session will gather local and international experts who will discuss the fact that satellites are now moving towards a "necessity" as opposed to a "convenience" when it comes to the collaboration and dissemination of data across the globe.
GovSat, a private-public joint venture between the Luxembourg government and SES, will be the Master of Ceremony. The company launched its first satellite last year on January 31st and entered into operational services two months later. Other companies such as Altyn, which is involved in the building and development of small satellites and giving consults of the commercial use of space, and Aerospace Lab, that builds versatile small satellites in the range of 25 to 50 kg, will also take part at the event to give their views on the benefits of satellite communication and infrastructure.
Space today, is impacting both the economies and social interactions, resulting in the growing recognition of the New Space industry along with the creation of many businesses involved in space. China, which boasts the largest reservoir of technologies and entrepreneurs taking up the NewSpace challenges, and Europe, with its traditional markets rich in diversity and efficiency, are fueling this NewSpace movement. NewSpace, an alliance of public-private budgets and entrepreneurs, with new technologies and innovative applications, aims at building smaller satellites at lower costs and at offering more space for everyone.
The first Galileo satellite navigation services were launched in 2016. With 26 satellites now in Orbit, Galileo system has more than 500 million users around the world. The Copernicus Earth-observation program delivers vital data to the international community for tracking socio-economic activities and preserving our environment. New data and information Access Services (DIAS) are also set to be deployed in 2020 and integrated at the European level to bring all of this data and processing capacity to citizens, scientists and manufacturers everywhere.
Space is the best vantage point for surveying our planet. The global goal to protect Earth and the current climate change challenges must bring our nations closer together and nurture more international projects. For instance, more responsive and proactive agriculture will be able to meet the basic needs that confront it.
The first confirmed speakers for this second morning on May 22nd are Michele Franci (Independent international Space & Telecommunications technology professional), taking the role of Master of Ceremony, and Stephane Janichewski (Head of Defense &Aerospace Market, Atos). Keynotes will be presented by experts from the European Commission and companies such as Hiber and Earthlab, both experts on Big Data, IoT and Communication. They analyse data from satellites, drones and other sources to inform companies on consequences and potential risks.
Leveraging Big Data
Planet Earth under surveillance is a big producer and storer of masses of data and a precursor of big data technologies. More data has been created in the past two years than in the entire previous history of the entire Human race.
Tracking pollution peaks, polar ice melt and deforestation in the Amazon may be some of the first environmental protection imperatives, but other sectors such as transport and mobility, security and agriculture are also calling for satellite data in order to improve their solutions and allow for the creation of a smarter society.
Luxembourg Space Agency, RBC Signals, ACRI-ST and Syntony are among the confirmed companies for this last afternoon. National and international experts and key decision-makers will share their expertise on real-time space communication technologies and services to satellite operators. Space observation technologies, cost effective and agile software algorithms, IoT and connectivity networks are also to be addressed during this session.