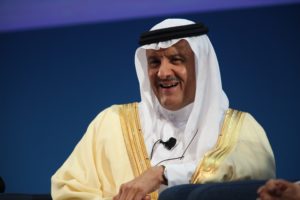 French online national security news publication Intelligence Online is reporting that the recently created Saudi Space Agency is beginning to take shape under the leadership of Prince Sultan Bin Salman, the son of the reigning King Salman, half-brother of the Crown Prince Mohammed Bin Salman, and first Saudi astronaut.
According to Intelligence Online, Sultan Bin Salman will visit Russia, France, and the United States over the next few weeks and will hold meetings with his counterparts at Roscosmos, the Centre national d'études spatiales (CNES), and the National Aeronautics and Space Administration (NASA), respectively.
Prior to his appointment as the head of the Saudi Space Agency, Sultan Bin Salman was in charge of the Saudi Commission for Tourism and National Heritage (SCTH), and has brought a number of his advisors there to the space agency. Intelligence Online reports that Abdulaziz Al Sheikh has joined Sultan Bin Salman at the space agency as its managing director. Al Sheikh is a former consultant to the Royal Saudi Air Force (RSAF) and also worked for defence and aerospace giant BAE Systems. Al Sheikh's deputy is Tariq Al Essa who has made his career in tourism and event management, previously serving as the CEO of the Saudi Exhibition and Convention Bureau (SECB). Lastly, the former head of international relations at the SCTH under Sultan Bin Salman, Abdulaziz Al Ghorayyeb, has now assumed the same position at the space agency.
Intelligence Online also reports that the budget of the Saudi Space Agency for its first year is expected to exceed U.S.$1 billion, though there is no indication whether this level of funding is to be sustained after that period.
Saudi Arabia established the Saudi Space Agency as part of a leadership shakeup enacted by King Salman bin Abdulaziz Al Saud in a Royal decree issued late on 27 December 2018.
As previously reported in SpaceWatch.Global, Saudi Arabia has a long history in space and satellite activity, with much of this activity emanating from the King Abdulaziz City of Science and Technology (KACST). The newly created Saudi Space Agency will likely coordinate and produce Saudi Space policy and strategy across the civil, commercial, and military sectors in cooperation with other Saudi government ministries and agencies. The Space Agency will likely also be the focal point for all Saudi international space cooperation.
KACST will most probably retain its role as a Saudi centre for satellite manufacturing and research and development, as well as for implementing and managing space science and exploration research and missions.
Additionally, Saudi Arabia is believed to be actively interested in acquiring a number of military reconnaissance satellites via French or American satellite manufacturers, and is also believed to be involved in discussions with the Russian state space corporation, Roscosmos, about training and sending Saudi astronauts to the International Space Station (ISS).