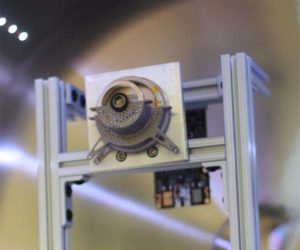 Phase Four, makers of electric radio frequency (RF) thrusters for in-space propulsion, has announced a new agreement with Japan-based advanced spacecraft experts, Sunrise.
Sunrise specializes in leading-edge aerospace technology, including satellite hardware and launch. As part of a three-year agreement, Sunrise will be bringing Maxwell, Phase Four's turnkey electric propulsion solution for small satellites (20-200kg) and other spacecraft, to market in Japan.
Designed for scale manufacturing, Maxwell brings the performance and efficiency of traditional, expensive electric engines to new small satellite constellations. Maxwell relies on Phase Four's proprietary RF thruster, which is designed to avoid components, like hollow cathodes, with high failure rates and long lead times.
This means that its thruster is easily manufactured at scale and is fuel agnostic-all while achieving the performance of legacy electric propulsion systems.
"Cost-effective electric propulsion is crucial to our customers' space missions, and Phase Four's Maxwell is a game changer," said Hiroshi Nashimoto, president and CEO of Sunrise. Japanese companies and space startups have announced plans to launch more than 250 small satellites over the next three to five years.
"We're gaining traction among commercial and government satellite manufacturers, and solidifying our partnership with Sunrise significantly accelerates our growth. We're excited to be working with Sunrise to power one of the world's largest and fastest-growing space economies," adds Beau Jarvis, CEO of Phase Four.