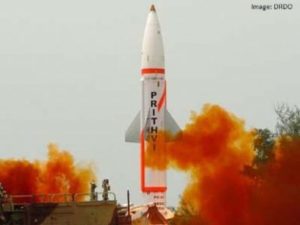 India's Defence Research and Development Organisation (DRDO) successfully carried out the country's first anti-satellite (ASAT) weapon test against an out-of-service Indian satellite orbiting the Earth at 300 kilometres altitude on Wednesday, 27 March 2019, at 11.16 am Indian Time.
The test was carried out by DRDO from its test range in Balasore and reportedly took three minutes from launch and target impact through to post-impact confirmation. The ASAT test means that India is now one of four countries to have carried out a kinetic, direct-ascent ASAT missile test along with the United States, Russia, and China.
According to the Indian government, the missile used was a three-stage version of DRDO's ballistic missile defence interceptor, likely a modified variant of the Prithvi Defence Vehicle (PDV), an exo-atmospheric interceptor missile that has been tested three times – first in 2014, then 2017, and most recently in February of this year.
According to the Indian Ministry of External Affairs, "The test was done in the lower atmosphere to ensure that there is no space debris. Whatever debris that is generated will decay and fall back onto the earth within weeks."
"A-SAT missile will give new strength to India's space programme. I assure the international community that our capability won't be used against anyone but is purely India's defence initiative for its security," said Indian Prime Minister Narendra Modi in a live televised address to the Indian public on 27 March 2019 after the test was completed.
India's Ministry of External Affairs, in a statement on the ASAT test, said, "The significance of the test is that India has tested and successfully demonstrated its capability to interdict and intercept a satellite in outer space based on complete indigenous technology."
"The test was done to verify that India has the capability to safeguard our space assets. It is the Government of India's responsibility to defend the country's interests in outer space," according to the Ministry of External Affairs statement.
China carried out a test of a similar direct-ascent ASAT weapon in January 2007, and was roundly condemned by the international community for doing so in light of the large debris cloud its destruction of a Chinese satellite caused. Throughout much of the Cold War the United States and the then Soviet Union carried out multiple ASAT tests against defunct satellites in order to demonstrate to each other their limited ability to take out each other's space-based nuclear command, control, and reconnaissance capabilities.
In February 2008, the United States destroyed one of its defunct National Reconnaissance Office (NRO) satellites – USA-193 – using an SM-3 missile with modified guidance and targeting software launched from USS Lake Erie. While the US government at the time justified the operation – known as Operation Burnt Frost – as a public safety issue, it was widely seen as a signal to China after its ASAT test over a year earlier.
Russia is believed to be developing a ground-based direct-ascent ASAT missile dubbed Nudol, but to date has not carried out a successful kinetic test against a satellite in orbit.
The Indian ASAT test has been dubbed Mission Shakti (Sanskrit for 'power') and, according to Prime Minister Modi, means that, "We are not just capable to defend on land, water and air, but now also in space."
"'Mission Shakti' is an important step towards securing India's safety, economic growth and technological advancement," Prime Minister Modi added.
"India expects to play a role in the future in the drafting of international law on prevention of an arms race in outer space including inter alia on the prevention of the placement of weapons in outer space in its capacity as a major space faring nation with proven space technology," the Ministry of External Affairs said.
"…the government is committed to ensuring the country's national security interests and is alert to threats from emerging technologies. The capability achieved through the Anti-Satellite missile test provides credible deterrence against threats to our growing space-based assets from long range missiles, and proliferation in the types and numbers of missiles," the Ministry of External Affairs' statement added.
Speaking exclusively to SpaceWatch.Global, Daniel Porras, Space Security Fellow at the United Nations Institute for Disarmament Research in Geneva, Switzerland, said, "This test sends a deterrence message to other potential rivals that India can also target and destroy objects in space. It is also an effort to re-affirm India's status as a preeminent space power, along with China, Russia and the U.S. This test confirms that counterspace technology, particularly kinetic technology, is being actively pursued by countries as an integral part of a modern military."
"While the test will likely escalate security tension with other States, India was at least careful to mitigate the impact of this test on orbits by destroying the satellite at a relatively low altitude of 300km. This test more closely resembles the U.S. ASAT demonstration in 2008 (Operation Burnt Frost), which was done at an altitude of around 250km, than the Chinese demonstration in 2007, which was done at an altitude of 800km. Most of the debris generated by Mission Shakti should be out of orbit within a few weeks or months, rather than decades," Porras said.
"In this context, India has reaffirmed the argument that there are already norms of responsible behavior for ASAT testing, namely that the creation of debris should be kept to a minimum. This could provide further impetus to the idea that ASAT test guidelines should be codified. Such a discussion could be held in the UN Disarmament Commission, which is tasked with making recommendations for the implementation of transparency and confidence building measures for outer space," he added.