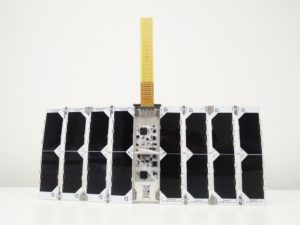 Alba Orbital Limited, a Glasgow based pioneer of miniaturized satellites, announced on 15 January 2019 the sale of the first two Unicorn-2 PocketQube spacecraft platforms to U.S.-based stealth mode startup, Stara Space. Stara plan to use these two satellites as a proof of concept for an eventual constellation to service other space users with high speed real-time data connection, storage, and computation. These satellites named NOOR 1-A and 1-B will demonstrate a LEO-LEO intersatellite link, encrypted communication, ADCS, and integration with ground station software that allows 3rd party satellites to request data transfer, crucial technologies required to create a real-time global communications constellation.
NOOR 1-A and 1-B will fly on Alba Launch cluster 2, joining 5 other PocketQube customers on the cluster, which is now sold out. The target launch date is Q3 2019, on a TBA flight proven launch vehicle. This will be the biggest deployment of PocketQubes in history, with the goal to provide a regular service for the PocketQube community, servicing startups such as Stara, universities, and space agencies.
Unicorn-2 is Alba's second generation PocketQube platform and the most advanced platform in its class. Developed with support of from the European Space Agency (ESA), Unicorn-2 boasts a 20 watt quadruple deployable solar panel, the world's smallest active pointing system (ADCS) and all key electronics integrated into one board (backplane). Each spacecraft only weighs only 750 grams with payload.
Tom Walkinshaw, CEO and Founder of Alba Orbital Limited, said, "We are really excited to announce Stara as our first Unicorn-2 customer! They have a really ambitious vision and we are really itching to get to work on making their first missions a success."
Tyler Diaz, Co-Founder and CEO of Stara Space, said, "The Alba team have been stellar at collaborating with for this mission. We're excited to work alongside them to advance the frontier of small satellites."
The PocketQube satellite format is made up of 5cm cubes, which can be stacked to make larger variants, which are referred to as p, for example 1p, 2p, 3p etc. The first 4 PocketQubes were launched into space in 2013. Globally, they are currently 13 PocketQube manifested for launch and expected to fly within the next two years.
Alba Orbital was founded in 2012 by Tom Walkinshaw and now employs 15 employees, 13 Full Time Equivalent. Their current offices are based in Glasgow Scotland, with 130 square metres of design, manufacture, and assembly space all under one roof. The team have won five major contracts with the European Space Agency (ESA), worth in excess of 1 million Euro. Their platforms, Unicorn-1 and Unicorn-2, serve different parts of the satellite value chain, and with their new Albapod deployer, are able to fly on any launch vehicle. They now have a combined 10 customers for their Alba Launch Cluster service and Unicorn platforms.
Stara Space are a stealth mode startup based in Miami, Florida, who are deploying a constellation of pico-satellites that provide high speed data connection, storage, and computation for space. Their first two satellites, NOOR 1-A and 1-B are expected to launch in Q3 2019.