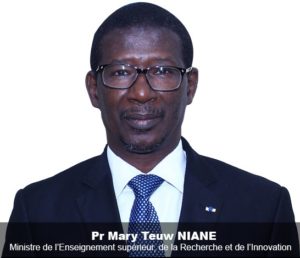 Monday 14 January in Dakar, Mary Teuw Niane, Senegal's Minister for Higher Education, Research and Innovation, and Jean-Pascal Le Franc, CNES's Director of Programming, International and Quality, signed an agreement to step up cooperation between France and Senegal in space.
Closer cooperation between the Ministry and CNES will spur development of space activities in Senegal in the fields of training, applications and space manufacturing with a view to building an ecosystem conducive to nurturing a dynamic space sector.
To this end, the agreement aims to define areas of cooperation in the use of outer space for peaceful purposes and to facilitate exchanges of personnel in order to consolidate the two nations' partnership ties. The scope of the agreement covers the pursuit of joint projects, specialist training and public outreach and education initiatives.
After signing the agreement, Jean-Pascal Le Franc commented: "Many African nations are increasingly involved in space, both for its applications and for its academic and educational benefits. This agreement putting our cooperation with Senegal on a formal footing feeds into this dynamic and it's great to see that future exchanges between CNES and Senegal's Ministry for Higher Education, Research and Innovation are going to help establish Africa's space ecosystem."