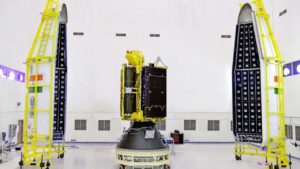 The Indian government is considering building a constellation of communications satellite is low-Earth and Medium-Earth orbits (LEO and MEO) in order to provide improved connectivity across the country with reduced latency, as the South Asian country seeks to be the latest entity to build a large constellation of satellites, albeit the first to do so as a government programme.
According to Indian press reports, the Indian government's Department of Telecommunications and Department of Space are in discussions about building the constellation that they say will bridge the digital divide in rural India and can be used by private companies as well as government agencies and state-owned enterprises.
"DoT [Department of Telecommunications] is working to set-up network of low earth orbit (LEO) satellite and medium earth orbit (MEO) satellite for telecom services. The entire expenses will be borne by the telecom ministry. Discussion in this regard has already started with Department of Space," an anonymous Indian government source told the Press Trust of India (PTI).
India already operates a large number of its INSAT/GSAT communications satellites in geostationary orbit, including four that have been launched over the past year, and these provide subcontinental and Indian Ocean connectivity for Indian governmental and business entities, remote islands, and telephonic and very small aperture terminal (VSAT) connectivity. While this service is functional, however, users experience significant latency issues with a lag of up to 0.20 seconds in satellite telephone calls commonplace.
"Latency in data signal is not good for mission-critical applications. Even experience during voice call is not good. People are required to wait to listen to someone on the other side. LEO satellites will be placed in orbit at distance of around 2,000 kilometers. This will reduce latency in signals," the Indian government official told PTI.
"There is plan to have 100 percent connectivity across the country. The proposed satellite will be owned by DoT and bandwidth rates are expected to come down. Operators can also use these for in-flight and maritime mobile services. Initial focus is to bring 100 percent coverage in rural areas," the unnamed official added.
Indian businesses and other commercial providers are skeptical of the plan, fearing that a government built and operated constellation will not be competitively priced and they are additionally concerned that Indian law will compel them to lease satellite bandwidth at rates much higher that commercial competitors. Hughes India, for example, is applying to provide satellite-based inflight and maritime connectivity above and around India and the company argues that these consumer services could be significantly delayed if they are forced to pay higher prices (as much as 30 to 50 times higher than commercially operated constellations) for government-owned satellite bandwidth.