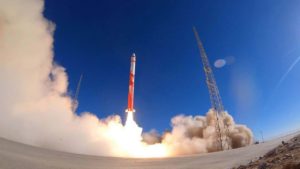 China's first private satellite launch vehicle production facility has begun operations in the city of Huzhou, located in east China's Zhejiang Province, according to the privately-owned and  Beijing-based launch vehicle manufacturer LandSpace.
The company told China's Xinhua News Agency on 28 December 2018 that their production facility, that includes a research and development department, opened on 26 December 2018.
The company's Tianjin (TQ-12) rocket engine and the Zhuque-2 (ZQ-2) liquid-propellant launch vehicle will start production at the facility in 2019. The ZQ-2, to be powered by the TQ-12, is scheduled to be launched in 2020.
LandSpace's Huzhou production facility will be able to produce about 15 ZQ-2 rockets and 200 TQ-2 engines starting from 2022, according to a LandSpace spokesperson.
"Having a manufacturing base is the first step for large-scale commercial production of carrier rockets and engines, and is expected to greatly accelerate the R&D and testing of our products," said Zhang Changwu, CEO of the LandSpace company.
"Our goal is to produce liquid-propellant carrier rockets that feature innovative technologies, competitive prices and performance that can match global counterparts," Zhang said.
LandSpace announced on 20 November 2018 that it had received 300 million Yuan (U.S.$43 million) in a Series B funding round. LandSpace has received a total of 800 million Yuan (U.S.$115 million) in investments since its founding in 2015, putting it on a par with Chinese rival OneSpace as the best funded New Space launch company in China.
This financing is mainly used for the research and development of the company's liquid oxygen-methane TQ-12 engine and its medium-sized liquid-fueled satellite launch vehicle Zhuque-2, and its supporting infrastructure. LandSpace aims to create a new commercial aerospace ecosystem in China by establishing the independent development, production, and testing of satellite launch vehicles.
At present, the TQ-12 liquid oxygen-methane engine completed its short-nozzle state thrust chamber test at the end of September 2018. It is expected that the whole system test will be completed in the first half of 2019. The Zhuque-2 launch vehicle based on this engine is scheduled to carry out its maiden launch in 2020.
LandSpace has already attempted to become the first privately owned Chinese space company to loft a launch vehicle into orbit. LandSpace's Zhuque-1 was launched from the Jiuquan Satellite Launch Centre in Northwest China on 27 October 2018, but the orbital attempt failed after an unsuccessful third stage engine firing.
Zhuque-2 is a proposed medium-sized launch vehicle powered by liquid oxygen and methane engines capable of lifting 4,000 kilograms of payload into a 200 kilometre low Earth orbit, or 2,000 kg of payload into a 500 km Sun-synchronous orbit.
LandSpace, known in Mandarin as Blue Arrow Space Technology Co. Ltd., was founded in 2015 by Tsinghua University, and is one of a growing number of competitors in China's intensifying New Space satellite launch sector.
The Chinese government is encouraging the participation of private enterprises in the country's space industry. This initiative has resulted in China now having more than 60 private companies in its commercial space industry.