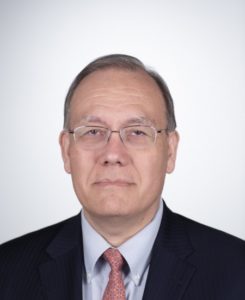 The United States National Space Council was re-established by President Donald J. Trump in 2017 after ceasing operations in 1993. The Council works to develop a strategy for national space activities and also to foster co-operation with other countries and space agencies in order to advance the U.S. space agenda and to share information.  In this fascinating interview, SpaceWatch Global's Torsten Kriening speaks with Dr. Scott Pace, Executive Secretary of the National Space Council, about going back to the Moon, regulatory reform, the prospect of counterspace capabilities, and international cooperation.
What is the latest U.S. vision in terms of getting back to the surface of the Moon?
The National Space Exploration Strategy, that was recently released, shows us building a Lunar Gateway in orbit around the Moon and then having a series of cargo landers going to the Moon's surface. Most of the cargo work will consist of commercial procurements. We are also having discussions about how to create a human lander. We could build this in the traditional way, through a government programme. However, we think that would be too costly and take too long so we are thinking about how a human lander programme could be achieved through a commercial partnership. That could be done through NASA providing crucial elements such as a life support system and maybe the ascent stage, which has to be highly reliable. But you can imagine a scaled-up commercial cargo lander as something that could be adapted and utilized as a human lander.
There is discussion today about having a mid-sized lander as well as a large lander. However, I think it is an open question as to how best to proceed. Could we go directly towards a human lander that could carry cargo but also be reliable enough to carry humans? Perhaps. In terms of timescale, we are still looking at the late 2020s. We are looking to have humans orbiting around the Moon in 2024, but certainly not being able to reach the surface until a few years after that at current funding levels.
Is the Gateway the most important step?
It's the next step. It's attractive for a couple of reasons. In some ways, it is a fairly low risk technical activity that would give us deep space experience that we really haven't had since 1972. So it would help develop ground systems and operating systems to work in deep space for the first time in a long time – with humans. We would be relying on Orion to provide a safe human habitat, so we don't need to build extra capacity that into the gateway itself. The Gateway has its own propulsion systems so that we can actually move it in different directions. Some of the orbit work that has been done on the Gateway is very innovative and provides us with a lot of flexibility for reaching different areas of cis-lunar space. The Gateway then becomes a potential logistics point where we can store fuel, for example, and it can support a reusable lunar ascent or descent systems. Again, the ascent side is more complex. If you listen to what Jim Bridenstine is talking about, in terms of building more reusability into the system and making it sustainable over the long term, the Gateway contributes to enabling a more reusable architecture than we have had in the past.
Let's talk about the legal framework. Has there been thought given to the legal framework or government model for future commercial economic systems on the Moon?
We actually have a lot of authorities right now that can enable that. One of the things we are doing domestically is Mission Authorisation that is led by the Department of Commerce. Under Article VI of the Outer Space Treaty, state parties are responsible for the activities of persons subject to their jurisdiction of control. The way we exercise that responsibility is typically through licensing. In the case of the Transportation Department, we have licensing authorities for launch and re-entry but we don't have clear licensing for things in space or on a planetary body. Rather than adding those things to the Department of Transportation's work, which is really focused on traversing through the atmosphere, we are putting a lot of that new licensing authority for new activities in the Commerce Department. Congress still has to agree and discussions are ongoing, but we think that the Commerce Department's business orientated approach and flexibility is well suited to doing mission authorisation work for a wide variety of activities including satellite servicing, bases on the lunar surface, and private space stations.
That's a domestic approach. What's the international approach?
We don't know that we really need anything new. The Outer Space Treaty is fairly permissive. The only areas where I think there is need for international discussion is developing guidelines for long-term sustainability of space activities. We were successful at working with other countries to define 21 guidelines in the UN. Unfortunately, these guidelines were blocked solely by Russia at the meeting of COPUOS last June. But on the other hand, I think the guidelines effort was a success in terms of getting where we did and we are still encouraged to keep working on voluntary guidelines through UN COPUOS.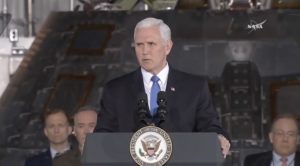 The other area for discussion is the issue of ownership of resources. This is where the Hague Group is talking to many experts. Again, U.S. citizens have the right to own space resources which they extract from the Moon. They don't, however, have the right to own them in situor to place claims of sovereignty. We think the space law environment is broadly permissive but we think it would be useful to have a more predictable and transparent environment for these things, and that's why we are talking with like-minded countries like Luxembourg and the UAE to explore what we might do next. We have also been quite encouraged by China on how we might work together in this area. We think that the international legal structure is sufficient but that we can do some more work on voluntary guidelines and practices.
The Administration is pushing through regulatory reforms and policy changes for the U.S. space industry. How is that progressing and what still needs to be done?
We are moving fairly quickly on reforming launch licensing. Initially expectations were that it would take five years. The Vice President then said one year so the Transportation Department is working pretty hard – so much so that companies are complaining that it is moving too rapidly. It's kind of interesting having companies complain that regulatory reform is moving too rapidly! We want to have a single license for launching similar rockets and to turn licences around more quickly. We want to be able to deal with reusable rockets as well as expendable ones. It's largely a matter of updating the current regulations to deal with the technical realities we have today. That is progressing well, although I think industry will want more consultations just to be sure. Having the government tell them it's all ok is probably not good enough and they want to see the draft regulations for themselves.
We are also making progress in remote sensing. We are trying to not apply the full weight of existing regulations to things like GoPro cameras and cubesats. Determining what applications require more intense scrutiny and which ones require less is something we are focusing on. We are also trying to respond to constellations that are much larger then we have ever dealt with before. We are in many cases dealing with new companies and universities that don't have a lot of experience in licensing. The small projects that universities tend to carry out probably don't need to get the level of scrutiny that a large radar constellation would get, for example. Nonetheless, there are regulations that all privately licensed remote sensing systems have to deal with. In terms of new technologies, a mission authorisation approach is being implemented for new and innovative space operations.
I think an area where regulation is having a big impact on space is the growth of 5G and broadband. This is mostly thought of as a terrestrial service that seeks more spectrum and sometimes seeks to take that spectrum from space services or to operate with or adjacent to them in a way that would cause potential interference to environmental monitoring systems and things like that. What I think people are missing is the fact that there needs to be a space component for the 5G strategy. Space systems have some difficulty achieving some of the low latency requirements that some 5G applications require, but not all applications have to have really low latency and in fact there are some of the LEO constellations that could probably fit those latency requirements. But there are many regions of the world, rural areas and developing countries, where terrestrial 5G services are not going to be built out any time soon. The economics are just not there and it's not where the dense markets are. If we are really going to bring the benefits of 5G to the entire world, I think it would be good for the space community to think about how to partner with 5G providers. The U.S. in particular is a leader in high-throughput satellite systems and we are a leader in the latest LEO broadband communications. I think future tie-ups between 5G providers, whether in the U.S. or with other countries such as Korea and Japan, could be part of a mixed solution that could benefit developing countries.
Part II of this interview with Dr. Scott Pace, Executive Secretary of the U.S. National Space Council, was published on 3 December 2018, and can be read here.
Dr. Scott Pace is the Executive Secretary for the National Space Council. The Council is chaired by Vice President Michael R. Pence. He began this position in August 2017.
Dr. Pace was formerly the Director of the Space Policy Institute and a Professor of the Practice of International Affairs at George Washington University's Elliott School of International Affairs from 2008-2017. From 2005-2008, he served as the Associate Administrator for Program Analysis and Evaluation at NASA. Prior to NASA, Dr. Pace was the Assistant Director for Space and Aeronautics in the White House Office of Science and Technology Policy (OSTP).
Dr. Scott Pace was also a member of the SpaceWatch.Global Advisory Board prior to his appointment to the U.S. National Space Council.