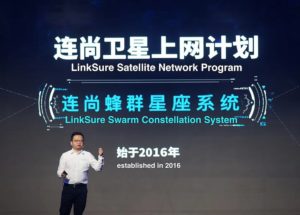 China's leading WiFi Internet sharing company, LinkSure announced that it will build its LinkSure Satellite Network Project comprising the LinkSure Swarm Constellation System, and said that the company's first satellite, LinkSure-1, is to be launched in 2019.
The LinkSure Swarm Constellation System, independently developed by LinkSure Network aims to provide Internet access in areas not covered by terrestrial networks through satellite communication services and solutions.
The ultimate goal is to provide a free satellite network around the globe by 2026. The system will be the world's leading hybrid orbit constellation system, consisting of 272 satellites and data processing application centres distributed in low-Earth orbit at different altitudes with two layers of satellites—72 core satellites at 1000 kilometres above the Earth's surface, and 200 node satellites that will orbit at 600 km altitude.
Mr. An Yang, the chief scientist of the LinkSure satellite project, said that an engineering team was formally established in 2016 and that the constellation system is progressing as planned. The Long March series of satellite launch vehicles (SLVs) will launch the first satellite at the Jiuquan Satellite Launch Centre in 2019. In 2020, LinkSure plans to complete the launch of the first ten satellites of the constellation system.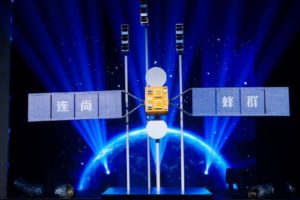 The core members of the LinkSure satellite team are from the China Aerospace Science and Technology Corporation (CASC). The team members include an accredited expert from the State Council, two doctoral advisors, and four master's degree tutors. The personnel on the core team have an average of 15 years of satellite research and development experience. The team has experience building more than 100 kinds of satellites, and are responsible from more than 50 satellites in orbit.
"With the launch of the LinkSure Swarm Constellation System, we hope to overcome the limitations of various terrains by transmitting signals from the air, thereby providing barrier-free network connectivity services around the world," said Mr. Wang Xiaoshu, the rotating president of LinkSure at the announcement in Beijing.