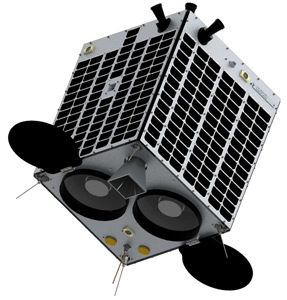 Axelspace has announced that the launch of the GRUS-1 satellite is scheduled for 27 December 2018, the first satellite of a future constellation. SKY Perfect JSAT and KSAT will in partnership provide ground station services for GRUS satellite by using SKY Perfect JSAT's owned and operated ground station at the Ibaraki Network Control Center and support of every orbit (14 of 14) from the unique KSAT ground station at Svalbard.
This is the first joint ground service contract award for the partners, cooperating under a Strategic Alliance Agreement for LEO ground station service concluded in 2016. SKY Perfect JSAT and KSAT will support this satellite program with KSATLite, a global ground network as a service, optimized for small satellites and big constellations. A high degree of standardization, supporting all the major standards in satellite and launch vehicle space to ground communications, makes the service easily scalable and cost effective.
The KSATLite global network is fully operational and live today, and by leveraging this award, SKY Perfect JSAT and KSAT will expand their business for the emerging LEO market. GRUS is a next-generation remote sensing microsatellite, the building block of Axelspace's Earth observation LEO constellation. Even with its mass of less than 100kg, it will enable us to obtain images with 2.5m ground resolution. The first GRUS-1 satellite will be launched this December followed by many more in the coming years, making high-frequency monitoring a reality for the entire Earth. When the full constellation is in place, Axelspace will be able to update the imagery of the Earth every day, making the satellite data easily accessible through the AxelGlobe platform. Axelspace will start commercial service for the imageries and its analysis data in 2019.
More than 7000 small satellites are expected to be launched into orbit by 2027 globally, fueled by technological development, new innovative solutions and launch services emerging, and the ground business market will be expanded accordingly. SKY Perfect JSAT and KSAT have strong interest in growing and supporting the New Space community and expanding its presence in the LEO domain.
SKY Perfect JSAT Corporation is a leader in the converging fields of broadcasting and communications. It is Asia's largest satellite operator with a fleet of 18 satellites, and Japan's only provider of both multi-channel pay TV broadcasting and satellite communications services. SKY Perfect JSAT delivers a broad range of entertainment through the SKY PerfecTV! platform, the most extensive in Japan with a total of 3 million subscribers. In addition, SKY Perfect JSAT's satellite communications services, which cover Japan and the rest of Asia, as well as Oceania, Russia, Middle-East, Hawaii and North America, play a vital role in supporting safety, security, and convenience for society as a whole.
Kongsberg Satellite Services AS (KSAT) is a leading provider of space to ground communication services for the satellite industry owning and operating a Global Ground Station Network consisting of over 150 interconnected antennas at 21 sites. The unique KSAT Svalbard Ground Station located on 78 ͦNorth is the world's largest commercial ground station and provides all-orbit support. Presently KSAT supports more than 1000 satellite contacts per day supporting over 100 satellite missions. KSATLite is a ground network solution optimized for small satellites and big constellations and has become the standard for New Space missions that require global, flexible, cost-effective, and reliable ground segment support as a service.