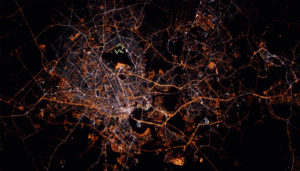 By James Yenbamroong
The rapid growth of people migrating to cities to live, study or work is set to continue. According to the United Nations, more than half of today's 7.5 billion world population live in cities. By 2050, about 70% of the world's 9.8 billion population will settle in urban areas.
Urbanization is one of the major trends currently shaping Southeast Asian societies. In Thailand, half of its 69 million population are now living in cities, and the country is expected to follow the global urbanization trend.
Thailand's smart cities
To prepare for urbanization, the Thai government has rolled out 'smart city' projects in Phuket, Chiang Mai and Khon Kaen.
A smart city is an urban development vision that integrates information, communications and digital technologies into people's everyday lives. It uses intelligent and innovative solutions to tackle the problems often faced in urban areas. The concept of smart cities has been gaining momentum in several Southeast Asian countries, and has been tested in Indonesia, Singapore, Thailand and Vietnam.
Thailand has invested hundreds of millions of baht in smart city technologies since 2016. The Thai government awarded 368 million baht to Phuket to turn the island into a smart city, while 36 million was allocated for Chiang Mai and 15 million for Khon Kaen. In 2018, Thailand plans to transform three more areas in Rayong, Chon Buri and Chachoengsao into smart cities.
The rollout of smart cities in Thailand is part of the government's three-year plan to improve digital infrastructures nationwide to support the country's transition to a digital economy. The plan will initially focus on installing CCTV systems that can be accessed using a web portal, building innovation parks to attract digital workers and investors to Thailand, and amending regulations to free businesses operating in smart cities from taxes.
Use of satellites
With the growing demand for low cost and wide coverage solutions for smart cities, more attention is now being given to how satellites could play a role. Used in a number of ways, from telecommunications and weather monitoring to navigation and national security management, the role of satellites in smart cities is predicted to grow over the next decade.
Satellites, for instance, can be used to map city landscapes, monitor environments and analyze carbon footprint. In Thailand, the country's first earth observation satellite THEOS was launched in 2008 into low-Earth orbit to observe agricultural lands, forests and water sources. Data gathered from THEOS are used by the Thai government for research, mapping and city planning.
It is expected that increased populations in cities around the world in the future will place huge demands for satellite-based broadband, cellular and broadcasting infrastructures, real-time monitoring systems, and emergency communication networks.
Indeed, there are many challenges ahead to fully integrate satellites on smart cities, but there are also many opportunities. Success may depend on collaboration between government decision makers and technology players who can collectively deploy the full range of satellite solutions.
James Yenbamroong is an engineer, technology entrepreneur, and the CEO and founder of mu Space Corp.