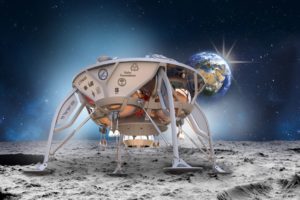 Israeli not-for-profit SpaceIL and Israel Aerospace Industries (IAI) completed the construction of the SpaceIL lunar lander and, in a ceremony at IAI facilities prior to being shipped to Cape Canaveral, placed a time capsule on board the spacecraft that will stay on the Moon indefinitely.
The spacecraft, recently named Beresheet (after the Hebrew word for Genesis), will launch alongside other satellites as a secondary payload on a SpaceX Falcon 9 rocket. The launch is scheduled for February 2019.
"We are proud to be the first non-governmental entity in the world to go to the Moon," said Opher Doron, general manager for IAI's Space Division. "Landing on the Moon was for many years a little-discussed topic among the public, but recently we see growing interest as world superpowers seek to return to the Moon in a variety of commercial missions."
The spacecraft was constructed at IAI's Space Division. It has successfully completed a series of recent tests to examine the integration of systems, and a series of complex experiments aimed at testing its durability. Validation and verification tests checked the function of the spacecraft in scenarios it could experience during the mission.
In October 2018, SpaceIL and the IAI announced a collaboration with the U.S. space agency, the National Aeronautics and Space Administration (NASA), to enable SpaceIL to improve its ability to track and communicate with the spacecraft before, during, and after landing on the Moon. Two weeks ago a retro-reflector from NASA was installed on the spacecraft to reflect laser beams and enable NASA to precisely locate the spacecraft on the lunar surface after the landing.
SpaceIL, IAI, and NASA also agreed that NASA will have access to data gathered by the magnetometer installed on the spacecraft. The instrument, which was developed in collaboration with Israel's Weizmann Institute of Science, will measure the magnetic field on and above the landing site.
After the mission has been completed, the spacecraft and time capsule will remain on the Moon indefinitely.
The time capsule includes three discs which each contain hundreds of digital files, including historic and cultural artifacts, objects collected from the public for sending to the Moon; Israeli national symbols. and a children's book inspired by SpaceIL's mission to the Moon.
"This is another step on our way to the Moon," said Ido Anteby, CEO of SpaceIL. "[We] … are preparing for the beginning of the amazing and complex journey that exemplifies innovation, creativity and courage. The spacecraft's historic journey, which also includes a scientific mission, makes a significant contribution to advancing the space industry and the subject of space in Israel."