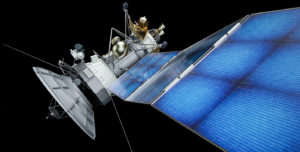 In order to provide for the new wave of mega Ka-band satellite constellations, Celestia Technologies of Harwell, UK, has signed an €8m contract with the European Space Agency (ESA) for the development of next generation Gateway ground stations.
The three-year programme will create a fully electronic scanning (eScan) ground station, capable of tracking and communicating simultaneously with multiple satellites which is essential to achieve continuous connectivity. The aim is to use eScan antennas instead of multiple mechanically steered dishes, so delivering benefits in space and maintenance costs. The contract has been partly funded by the UK Space Agency.
"ESA is delighted to support the development of this challenging gateway station under the ARTES CC programme," said Domenico Mignolo, Head of the ESA Ground Segment Technologies & Products Section. "With the backing of our successful and innovative European Group companies, and the supportive UK space environment, we see eScan as an exciting catalyst that will establish deep roots in the UK."
José Alonso, Chairman of the Celestia Technologies Group, said, "This major project is a component of our wider UK investment and growth plans designed to address the technical challenges of providing extremely capable ground-based architecture to maximise the space-based investment."
With the trend for earth observation operators to orbit increasing numbers of smaller satellites in their fleets, and connectivity focused satellite operators launching satellite constellations in their hundreds, the control (TTC) and the gateway functionality of the ground-based stations has become increasingly critical.
The commercial opportunities created by this developing activity are wide-ranging. The eScan gateway concept is applicable to any frequency band and is capable of efficiently and cost effectively providing Gateway and satellite TTC services.
The eScan development is set to create an initial 20 new jobs. The €8m ESA contract is part of a total €19m project.