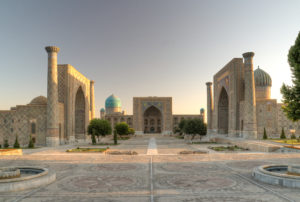 Uzbekistan is discussing the joint development, manufacture, and operation of a communications satellite with Russia and Kazakhstan, according to media reports in Uzbekistan and Kazakhstan.
This follows reports that the Central Asian state is also in advanced talks with French satellite manufacturer Thales Alenia Space regarding support for developing capacity in the country's space sector, as well as the possible acquisition of an Earth observation satellite.
By collaborating with neighbouring Russia and Kazakhstan, as well as with France and possibly other countries, Uzbekistan is pursuing a strategy of hedging its strategic and technological bets by not being reliant on any one country for its space and satellite needs.
Some details about the proposed communications satellite project were revealed at the Uzbek-Russian Inter-regional Forum held in Tashkent, the Uzbeki capital, in late October 2018. There, the Russian delegation expressed its readiness to help Uzbekistan in developing a national satellite communications system for the Central Asian region.
The Roscosmos representative in Kazakhstan, Anatolyi Krasnikov, made a presentation about the project that would entail multilateral cooperation between Russia, Kazakhstan, and Uzbekistan in the joint operation of the satellite.
"There is an opportunity to launch trilateral cooperation. We offer to study this issue together with Kazakhstan that plans to replace its [Kaz]Sat-2 satellite in orbit with KazSat-2R in 2023," said Krasnikov, quoted in local media reports.
Based on the reporting so far it is not clear whether the proposed satellite communications project is a straightforward multilateral cooperative effort between the three countries, or if it is a part of a wider Eurasian Economic Union (EAEU) effort that could be expanded to other Central Asian republics to include Tajikistan, Kyrgyzstan, and Turkmenistan.
Nor is it clear based on recent reporting whether the proposed project entails a business plan that would make the multilateral satellite system commercially viable, or if it is being touted as a geopolitical project.
If the former, then such a business case will have to compete against international concerns that are offering varied content over more reliable satellite technology.
If the latter, then it is likely that the project is an effort designed to enhance Russia's regional political dominance in the face of growing Chinese influence and increasing diplomatic and economic autonomy from Moscow on the part of Central Asian capitals.
KazSat-2R is supposed to replace the KazSat-2 communications satellite that was launched for Kazakhstan in 2011, and is expected to cover the territories of Uzbekistan, Kazakhstan, central Russia, and other Central Asian countries.
Russian news agency Interfax also reports that Roscosmos is also offering to support Uzbekistan in establishing ground-based space situational awareness (SSA) monitoring stations as well as Earth observation satellites, an offer likely in response to French efforts to gain access to Tashkent's space sector.