Established in 1963, the American Institute of Aeronautics and Astronautics (AIAA) has seen a Member of its organisation achieve virtually every milestone in modern American flight. With more than 30,000 individual members from 88 countries, and 95 corporate members, AIAA is the world's largest technical society dedicated to the global aerospace profession. SpaceWatch.Global's Torsten Kriening was lucky enough to sit down and speak to current AIAA Executive Director, Daniel L. Dumbacher to talk about space exploration and the next generation of AIAA Members.  
Tell us about your career and the current job you are doing
I had a fun career and got to do a lot of cool stuff and work with a lot of cool people. I had the opportunity to work on the Shuttle main engine before the first Shuttle flight as a summer student and ended my NASA career as Program Director on the Space Launch System and Orion at NASA Headquarters.
In between, there were stops along the way with DCX prototype unmanned aircraft and XA, doing vertical landing and re-usable rocket back in the early to mid '90s. These included the X33 and X37, that's still flying. There was an intermediate stop between NASA and AIAA that was important to me, and that was 3 and a half years as a Professor of Engineering Practice in the School of Aeronautics and Astronautics at Purdue University where I had the opportunity to help prepare the next generation for the future. Then, AIAA called and I saw that as an opportunity to help the next generation even further. In my own world, I am trying to do for the next generation what my mentors did for me. They helped get me ready, so it's my turn to pay it forward.
What does space exploration mean to you?
That's a good question. Space exploration for me is a very broad term and it really means what we are doing and what we will do to extend the human neighbourhood from 200 miles above the Earth's surface, further and further out. Where will we go? What will we see? What will we learn? What will we be able to take advantage of to help humans live either on Earth or live on other planets?
Do you really believe that we are a space faring species?
I think that we eventually will be. We haven't had that opportunity yet. We've dipped our toes into the ocean, as Carl Sagan said. We've gone out to the Moon and back and we have been working in the Low Earth Orbit (LEO) environment. Whether it will work or not, I don't know. But the one thing is, when you look at the history of humankind, we have always moved to the next frontier and there has been a challenge in extending there but eventually, we conquer it and move on. That new frontier for us now is outer space and that frontier will be constantly moving until we extend the human neighbourhood further and further out. It's not for everybody. Not everyone will want to go to space but I think there will be a significant portion of human global society that will want to move out and to see what's over the next horizon and to use it for something new. My forefathers, from Germany, came to the US in the hope of building a new and better life. They cut their ties with their family in Germany and they moved to the US in the 1850s and they stayed. If you look at what happened to the family after that, it turned out very well.
But there was an economical reason for that move. Do you think that what we are doing now in outer space is on the same level?
It's not on the same level yet.  We can't yet do it on our own. I think it's that 'yet' part that's important. Will it turn out like the migration in the 19th century? I don't know. But let's go find out and figure out what the barriers are and try to conquer them. If it works – great. If it doesn't, at least we know we tried.
The next generation are standing on the shoulders of the Apollo generation. Will the next generation appreciate this – or will it scare them? It's a big burden.
It is a very thin line and it will be personal choice. There will be people that are willing to take on the challenge and go and try it. There will be others who will say it's too hard – and that's fine. Of those that do want to take on the challenge, many will fail. Some will be successful in some form. Then, what society does after that success means these people will have a choice. I watch the younger generation, the 'millennials', and my perspective on them is probably a little different than a lot of people. My perspective is that, when we were their age, I was just as interested in doing something fast and changing the world, as they are. The opportunities were different at the time but I wanted to make something happen and I wanted to be part of something bigger. I think that still exists today, because it's a common human trait. However, they have different tools to the ones that we did. There were people in my generation that thought we were crazy for taking on the challenge, they just have different values.
Talking about our future on the Moon and Mars, the role of policy for these upcoming settlements is a very important one. Today we base our work on the 1967 Outer Space Treaty. Is this outdated? Do we need something else?
I tend to look at things like this as a starting point to go from. Let's take that and figure out what we need to do for the future. I think we have learned a lot, particularly with the Outer Space Treaty and with the international partnerships of the Space Station, with the Apollo-Soyuz test project. The things that we have done with space exploration along the way have enabled and will enable us to learn step-by-step how to do this. I think that opportunity is still there and if we use it, we will continue to grow but if we start all over again, we are going to be way back and we will have to go through this learning process again. I think we need to go to the next level instead.
In terms of governance and settlement on the Moon, what are your thoughts? Any words of wisdom?
The only word of wisdom I would have is to say let's not have the conversation that goes: this country does it this way and they're right, and this country does it that way and they're wrong. Let's have the conversation about what we need to do to use the best of all the governance models. I don't know that any one country has a corner on the market on the best way of doing governance. I am partial to the democratic thought process and people being self-governing.
What can we expect for the 50th Anniversary of the Apollo landing?
Well, we're still figuring that out. What you will see is a retrospective recognition of what we accomplished then and what we have accomplished since, all with an eye towards what the next 50 or 100 years will bring. Let's look at the opportunities based on what we already know. Humankind has accomplished much over the last 100 plus years of flight. We now have flights that connect the globe and we are looking at ways to do it even faster. Think of those opportunities. We have gone from Kittyhawk to the Moon to space station research facility in LEO. We have a lot to look forward to. I am extremely optimistic for the future.
What is your message to the next generation?
Go make it happen. It's really simple. You have the opportunity. Take it and go and make it happen.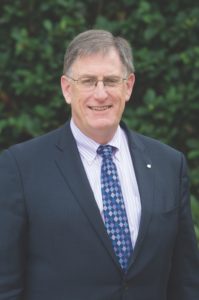 Dan Dumbacher is the Executive Director of the American Institute of Aeronautics and Astronautics (AIAA).
Before joining the AIAA staff in January 2018, Dumbacher was a Professor of Engineering Practice in the School of Aeronautics and Astronautics at Purdue University, where he taught courses in systems thinking, systems engineering, and space policy.
Prior to Purdue, Dumbacher served as the Deputy Associate Administrator, Exploration Systems Development Division, Human Exploration and Operations Mission Directorate at NASA Headquarters. In that capacity, he provided leadership and management as the Program Director for Exploration Systems Development, which included: the Space Launch System, Orion, and Ground Systems Development and Operations development and integration efforts. He led a national team of over 5,000, spanning all NASA centers and industry, and was responsible for a $3 billion annual budget.
During his career, he has received numerous awards and honors including the coveted Silver Snoopy Award and the NASA Distinguished Service Medal. In 2015, Purdue recognized him with the Gustafson Teaching Award.
Dumbacher earned his bachelor's degree in mechanical engineering from Purdue University and a master's degree in business administration from the University of Alabama in Huntsville. He has also completed the Senior Managers in Government program at Harvard University.
Dumbacher is a native of Indianapolis, Indiana. He and his wife Lee have three grown children.