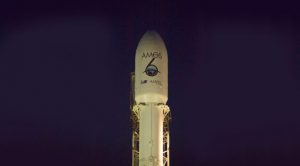 Israel Aerospace Industries (IAI) has been ordered to pay Spacecom U.S.$10 million for the late delivery of the AMOS-6 communications satellite that ended up being destroyed in a launchpad explosion of the SpaceX Falcon 9 it was sitting upon in 2016.
The announcement was made in a filing with the Tel Aviv Stock Exchange on 1 November 2018. Spacecom said that the award of the late fee was the result of arbitration over the AMOS-6 communication satellite's long drawn-out production.
Spacecom placed the order for AMOS-6 from IAI in 2012 for U.S.$200 million with the intention to launch the satellite in 2014 or 2015. In the Tel Aviv Stock Exchange filing Spacecom did not mention when it was originally supposed to receive the satellite from IAI, but in 2015 the launch of AMOS-6 was delayed by a year.
In October 2018, Spacecom was believed to be negotiating with IAI the terms and requirements for its next satellite, AMOS-8. The new satellite was originally supposed to be built by U.S. satellite manufacturer Space Systems Loral (SSL), but that order was canceled following the Israeli government's intervention on beghalf of IAI in the project.
"We are talking with Israel Aerospace Industries to do it with them," Tsachi Dahan, head of Spacecom's vertical solutions business, said at a conference in Israel on 16 October 2018, and quoted in Space News.
Spacecom had ordered AMOS-8 as a replacement for the lost AMOS-6 from SSL in March 2018, since the U.S.-based manufacturer said that it could build the satellite the fastest. The SSL deal was ended, however, in September 2018 following political controversy in Israel over the selection of a foreign manufacturer over IAI, as well as fears that IAI may not be able to maintain a viable satellite production capability.
In early September 2018 the Israeli Ministry of Science, Technology, and Space announced that AMOS-8 would be manufactured in Israel with the support of government subsidies. Spacecom initially hoped that the SSL-built AMOS-8 would be in service by 2020, and the contract with the U.S. company was significantly cheaper than the bid put in by IAI when the AMOS-8 contract was originally put out to tender.
Since discussions are still underway between Spacecom and IAI over AMOS-8, it is not known how much the IAI version will cost and when it will be able to be launched.
Spacecom currently leases AsiaSat-8 from Hong Kong-based AsiaSat as a temporary replacement for AMOS-6 for an annual fee of U.S.$22 million. The four-year contract with AsiaSat ends in 2020 unless Spacecom exercises an option to extend the lease by another year. Spacecom has expressed its preference not to extend the lease of AsiaSat-8 for another year after 2020.