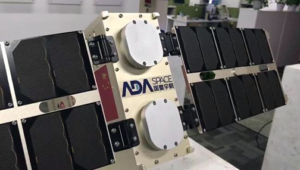 Chinese New Space company Chengdu GuoXing Aerospace Technology Co. Ltd., also known as ADA Space, is building satellites powered by Artificial Intelligence (AI); the company has already launched two and is preparing for a third launch in early December 2018.
The Chengdu GuoXing Aerospace Technology Co. Ltd., which is supported by the local government, was set up in the capital of southwest China's Sichuan Province in May 2018. Since then, it has developed two experimental satellites integrated with AI technology.
"The AI technology could give the satellite a stronger capability of automatic data analysis," said Zhao Hongjie, vice president of the startup firm, according to a report in Xinhuanet. "For instance, the remote sensing satellite with AI technology could autonomously identify clouds and fog, and select the useful images to send back to earth, thus greatly improving its working efficiency."
One AI satellite developed by the company for commercial use was launched into sun-synchronous orbit on 29 October 2018.
According to a report by Beijing-based investment institution FutureAerospace, more than 60 private Chinese firms have entered the commercial space industry over the past three years, focusing on the production and launch of satellites and rockets.
Launching rockets and satellites has long been the goal of China's state-owned aerospace companies, and the Chinese government issued a policy in 2015 to encourage private enterprise in the space industry.
Chengdu GuoXing Aerospace Technology is one example of China's emerging commercial space industry. It employs more than 40 staff, most of whom are under the age of 30.
According to Xinhuanet, the value of the global space market is estimated to reach U.S.$485 billion in 2020 when the value of China's space market is projected to be 800 billion yuan (U.S.$125.78 billion). About two-thirds of global satellite orders will come from commercial customers in the next decade.