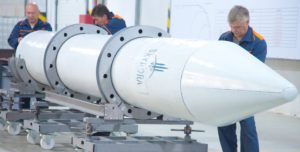 Skyrora, the Scottish New Space satellite launch company, has moved its corporate headquarters to Princes Street in the heart of Edinburgh, Scotland's capital city, under a five year lease.
The company is bidding to become the first company in the United Kingdom to be able to launch satellites into Earth orbit, and is developing SKYRORA-1, a suborbital rocket capable of lofting a 90 kilogram payload using engines fueled by hydrogen peroxide and kerosene, and then SKYRORA-XL, a three-stage launch vehicle capable of putting a 320kg payload into a 600 kilometre Polar orbit.
Skyrora was established in June 2017 by Ukrainian and British entrepreneurs and engineers and seeks to take advantage of the corporate and academic cluster that populates the Edinburgh-Glasgow corridor, also known as the Silicon Glen. The company aims to launch its suborbital rocket, and eventually its satellite launch vehicle, from Scotland, most likely from the Shetland Islands.
The move by Skyrora to Edinburgh's city centre was praised by Adam McVey, leader of Edinburgh's City Council, as a validation of the city's attempt to woo "innovating tech firms" to locate there.
"It is fantastic for the capital to have a business like Skyrora opt to commit its HQ here," said McVey. "As the only UK-headquartered launch provider competing to send rockets into orbit from a forthcoming UK spaceport, it is a truly exciting enterprise that will draw in lots of interest in the coming years. It's another great business providing opportunities for skilled graduates and apprentices in crucial science and tech subjects."
"Edinburgh is a positive tech-hub that is drawing some of the best STEM talent in the UK," said Daniel Smith, Skyrora's director of business development. "From here we can easily reach a number of top universities, the thriving satellite tech firms in Glasgow as well as potential future launch sites in the north of the country – and of course the rest of the world from the airport. Our new premises will also allow us to continue growing a multi-talented team."
Skyrora is utilising additive manufacturing techniques to 3D print the parts for its rocket engines, and has actively looked at the proposed Saxa Vord launch site operated by the Shetland Space Centre on the Shetland Islands, located off of the north coast of Scotland.