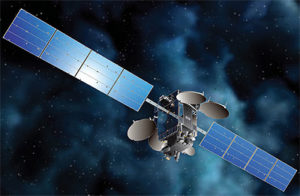 Azerbaijan and Australia are reportedly in ongoing discussions regarding collaborative satellite projects, according to a report from Trend News Agency, an Azerbaijani news outlet.
According to the report, Azerbaijan and Australia are in economic and technology cooperation talks on mining, information technologies, and aerospace industry. The president of the Azerbaijan Chamber of Commerce in Australia, Nizami Jafarov, who appears to be privy to these discussions seems to the source the Trend News Agency.
In speaking about information technologies, Jafarov said that currently AzerCosmos, who operate Azerbaijan's communications and Earth observation satellites, is negotiating rights to operate in Australia.
"The cooperation in the aerospace industry can be established by Azercosmos OJSC and the Australian Space Agency, created in July," he said. "The sides are considering the opportunity to exchange experience."
Mr. Jafarov added that there is great potential for cooperation between the two countries, but is not yet fully realised.
"As a result, the work on the development of trade and economic relations affects all areas beneficial to both sides," he said.
Azercosmos, established on 3 May 2010, is the only satellite operator in the Caucasus and is fully owned by the Azerbaijani government. The company operates two communications satellites, Azerspace-1 and Azerspace-2, and an Earth observation satellite in low-Earth orbit, Azersky.
Cooperation between Azerbaijan and Australia intensified in 2017, when a business delegation consisting of Australian entrepreneurs first visited the country in October that year, according to Trend.
As part of that visit, Baku hosted the first Azerbaijani-Australian business forum. Representatives from 30 Australian companies operating in various sectors of the economy, including tourism, finance, investments, real estate, media, and other areas attended the forum, the Trend report said.