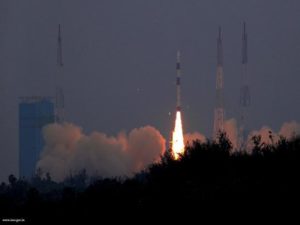 The Indian Space Research Organisation's (ISRO) PSLV-C43 lifted off at 0957 hrs (IST) on 29 November 2018 from the First Launch Pad (FLP) at the Satish Dhawan Space Centre SHAR, Sriharikota, and successfully launched India's Hyperspectral Imaging Satellite (HysIS) and 30 international co-passenger satellites.
The Polar Satellite Launch Vehicle (PSLV) is a four stage launch vehicle with alternating solid and liquid stages. PSLV-C43 is the Core Alone version of PSLV, without the six strap-ons.
HysIS, the primary satellite of the PSLV-C43 mission and weighing about 380 kg, is an earth observation satellite configured around ISRO's Mini Satellite-2 (IMS-2) bus. The primary goal of HysIS is to study the earth's surface in the visible, near infrared, and shortwave infrared regions of the electromagnetic spectrum.
The co-passengers of HysIS include 1 micro- and 29 nanosatellites from eight different countries. These satellites were commercially contracted for launch through Antrix Corporation Limited, the commercial arm of ISRO.
Along with HysIS, the following countries had satellites on the PSLV-C43 launch manifest:
Australia: Centauri-1, the second nanosatellite launched for Australian New Space company Fleet Space Technologies as part of its Internet of Things (IoT) connectivity constellation;
Canada: Kepler (CASE), the second nanosatellite launched for Kepler Communications, a small satellite startup that is designing a constellation of CubeSats for Internet of Things (IoT), machine-to-machine (M2M), and inter-satellite communications services;
Colombia: FACSAT-1, a 3U Cubesat built by the Fuerza Aérea Colombian (FAC – the Colombian Air Force) to demonstrate the technological capabilities to build and operate a nanosatellite. GomSpace provided the bus for FACSAT-1, and the satellite carries an imager with a resolution of 30 metres to provide daily coverage of Colombian territory. The images obtained, due to their accuracy, will be used for urban development, land restoration, illegal crop substitution, and natural disaster and fire response;
Finland: REAKTOR Hello World, a modular 2U-CubeSat mission built by Reaktor Space Lab Ltd. to demonstrate a novel infrared hyperspectral imager and the Hello World platform for future LEO and deep space missions;
Malaysia: InnoSAT-2, a nanosat mission designed to introduce a Malaysian-built satellite bus. The Astronautic Technology Sdn. Bhd (ATSB) InnoSAT series provides solutions and opportunities for researchers to demonstrate their experiments on orbit;
The Netherlands: HIBER-1, is a 6U CubeSat pathfinder mission for Hiber Global's (formerly Magnitude Space) planned communications Cubesat constellation.
Spain: 3Cat-1, a 1U CubeSat built at the Universidad Politecnica de Cataluna (UPC) to perform multiple technology experiments;
United States: CICERO-8, for GeoOptics Inc., for performing GPS and Galileo radio occultation (GNSS-RO) of the Earth's atmosphere and surface remote sensing by GNSS reflection;
Sixteen FLOCK-3R Earth observation nanosatellites for Planet;
Global-1, an Earth observation microsatellite for BlackSky Global capable of capturing one metre resolution images;
HSAT-1, a 6U CubeSat built by the Harris Corporation as an Internal Research and Design (IRD) testbed for an LEO payload;
And lastly, four LEMUR-2 (nos. 84-87) meteorological and Automatic Information System (AIS) nanosatellites for Spire.