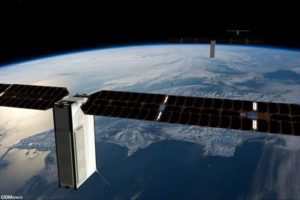 Australian narrowband satellite communications New Space company, Sky and Space Global, has signed a distribution agreement with Latin American mobile satellite services (MSS) provider GlobalSat Group LLC to provide machine-to-machine (M2M) and Internet of Things (IoT) coverage in South America.
"We are pleased to have finally secured a definitive supply agreement with GlobalSat. This marks a huge milestone achieved for us on the pathway to commercialising our technology," said Meir Moalem, managing director and CEO of Sky and Space Global. "We have been working very closely with GlobalSat for a while now and look forward to seeing how this agreement unfolds."
Under the terms of the agreement, SAS and GlobalSat have established non-exclusive commercial terms for GlobalSat to distribute, sell, market, and promote SAS' narrowband connectivity solutions and respective products to its customers, affiliates, resellers, subscribers, and end users within Latin America.
The Latin American market consists of 64 million people with limited or no access to mobile connectivity services, representing 10% of the Latin American population and symbolising excellent growth potential for SAS in this region.
As a result of this agreement, once the deployment has begun, SAS expects to generate revenues of U.S.$5 million within the first two years,  based on the conservative GlobalSat Group estimate, with a significant growth potential, thanks to the extensive amount of current and upcoming GlobalSat clients across the energy, government, defence, mining, and agriculture sectors.
The first batch of Pearl nanosatellites is scheduled to be launched in mid-2019. After the launch and the successful completion of in-orbit testing and designation of the constellation as fully operational, sales will commence immediately.
The signing of this agreement follows completion of commercial testing with GlobalSat Group and confirms the commercial potential of SAS' proprietary nanosatellite technology and the business mode.
"We are excited to be moving forward with Sky and Space Global and believe that we have the opportunity to significantly improve our service offering with SAS' nanosatellite technology on board," said Alberto Palacios, managing director of GlobalSat Group.