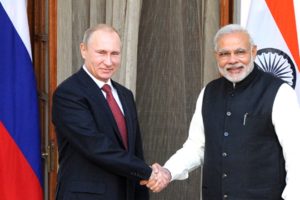 A "Memorandum of Understanding between the Indian Space Research Organization (ISRO) and the Federal Space Agency of Russia, Roscosmos, on Joint Activities in the field of Human Spaceflight Programme," was signed between India and Russia on 5 October 2018.
The MoU was signed by Dmitriy Rogozin, Director of Roscosmos, and India's Foreign Secretary Shri Vijay Gokhale during a visit to New Delhi by Russian President Vladimir Putin, who was hosted by Indian Prime Minister Narendra Modi who initially announced India's human spaceflight programme known as Gaganyaan in August 2018.
"Russia has always been with us in the development journey of India. The next goal in our space journey is to send an Indian astronaut in Gaganyaan. I am very happy that you have assured full cooperation of Russia in this mission," Prime Minister Narendra Modi said in a joint press conference with President Putin.
As well as cooperation in human spaceflight, India and Russia also agreed to cooperate in making Indian and Russian space-based positioning, navigation, and timing services – India's NavIC and Russia's GLONASS – compatible by establishing ground stations in each other's countries, and also committed themselves to the construction of a Brazil, Russia, India, China, South Africa (BRICS) Earth observation constellation.
"The Sides stressed the importance of the longstanding and mutually beneficial India-Russia cooperation in outer space and welcomed the activity on setting up measurement data collection ground stations of the Indian Regional Navigation Satellite System NavIC and the Russian Navigation Satellite System GLONASS in the territory of the Russian Federation and the Republic of India respectively. The Sides agreed to further intensify cooperation in the field of exploration and use of outer space for peaceful purposes, including human spaceflight programmes, scientific projects, as well as agreed to continue developing cooperation on BRICS remote sensing satellite constellation," according to a joint Indian-Russian statement released after the signing.
Before the visit of President Putin to India it was suggested that Russia may bring an Indian astronaut to the International Space Station (ISS) on board a Soyuz spacecraft for a short training mission in 2022 according to a source in the Russian space industry, Russian news outlet Sputnik reports.
"The Russian side has offered Indian colleagues to conduct a short visit to the ISS. The flight should take place in 2022 before or after India's independent manned space mission. The agreement is expected to be signed in the near future," the source told Sputnik.