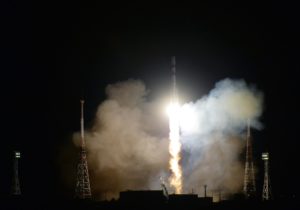 The Khrunichev State Research and Production Space Center has completed the proposal for a new reusable rocket development and has sent the documents for project assessment to the Central Research Institute of Machine Building (TsNIIMash), a leading scientific institution with Roscosmos.
The Khrunichev Space Center has been reported to be developing launch vehicles with reusable first stages. Various options are considered, including vertical landing, a combined parachute and jet-propelled launch escape system and a winged return module.
There is a number of other Russian reusable rocket projects being developed. For example, the Russian Foundation for Advanced Research Projects in the Defense Industry in conjunction with Roscosmos and the United Aircraft Corporation, completed the preliminary design of a small-lift reusable rocket. The developers used research on the reusable winged block for the Angara rocket that had been conducted at the Khrunichev Space Center in the early 2000s and between 2011 and 2013. At that time, the program was not supported as the winged rocket development was not considered economically sensible.
Another reusable rocket project is being developed at the Makeyev State Rocket Center. The project was named 'Korona' ('Crown').
S7 Space company, the owner of the Sea Launch project, has also announced the possibility of developing a reusable version of the Soyuz-5SL medium-lift rocket.
To date, the return rocket stages are being used only by American companies Blue Origin and SpaceX. They land the stages with the help of their rocket engines.
In April, before becoming Roscosmos General Director, Dmitry Rogozin said that Russia was unable to develop the type of rockets that Elon Musk had due to the specifics of Russia's geographical location. SpaceX launches rockets from Cape Canaveral and 'catches' return stages with autonomous spaceport drone ships, but in Russia it is not possible to use such ships as there are no seas in the vicinity of the cosmodromes, necessitating why the winged scheme is needed.