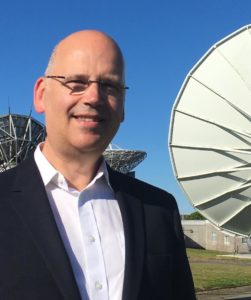 The UK space sector is truly on the up. Years of hard work preparing the ground are finally paying off. With recent announcements promising long awaited spaceports, and the rapid growth and leadership of the UK in the smallsat industry, iconic Goonhilly Teleport is looking forward to a glittering future. With new financial backing and ambitions to extend its reach to deliver services on a global scale to the deep space and commercial satellite sectors, there is much to look forward to at the Cornwall-based teleport. Helen Jameson spoke to Ian Jones, CEO, Goonhilly to find out more about what the future holds, how the company will support future growth, R&D and the potential for one of the UK space sector's most treasured sites.    
We are in the midst of a truly exciting time for the UK space industry. The UK is a leading light in the smallsat industry, NewSpace in the UK is really taking off with centres of excellence such as the Harwell Space Cluster, we have recently had the announcement of the VTO and HTO spaceports – one of which looks like it will be in Cornwall. How excited are you about this surge in the UK space sector?
Very! I think it's really exciting. I describe the space industry as a global cottage industry. It underlines the fact that, in the UK, there has been this very coherent approach between the industry, government and academia. There has been a really solid collaboration for a number of years and this has taken a few years to come together but it is really starting to happen now for the UK and it's fabulous.
Let's talk about the investment that Goonhilly has recently received from Peter Hargreaves. What did he see in Goonhilly that made him invest such a large sum? What did this mean to you, Ian?
We were looking for a new investor. We had started off our story with an institutional investor and we were ready to move to the next stage and on the lookout for somebody who could invest in us for the long term. We approached Peter with a paper that detailed what was happening in the space sector as a whole and how the UK was involved and how Goonhilly, specifically, was involved within the UK space sector. Essentially, he really hadn't thought about the space sector up until that point but became very interested in helping us to cement our part in it.
From my own perspective, it's fantastic to have strong financial backing and a strong balance sheet because it means that we can really invest in the things that we believe in and that are pushing the agenda forward in the space sector.  We've already carved out a very special niche for ourselves in so far as space agencies around the world are looking to industry to buy services directly rather than owning an entire programme. So the ground services sector is something that we are really pushing forward with. The investment from Peter enables us to facilitate this on a global scale and that's really exciting for the whole team. I am very excited about it.
Can you summarize how you will use this money to position yourselves in this new space landscape? Goonhilly certainly appears to be diversifying its business and reaching into all areas resulting in a very unique offering.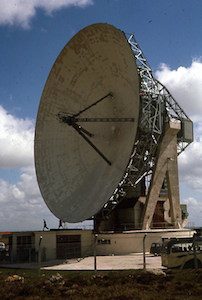 That's always been part of the business plan right from the very beginning. The teleport market is a very mature one and we are at a time when the first of the Ka-band satellites are starting to appear, the first of the HTS are starting to appear and the TV industry is changing. We always knew it was going to be very challenging as a new entrant into the teleport market. So right from the very beginning, we knew that our business model would be to diversify.
The other element is that our background as engineers comes from a design and supply chain heritage, so we understand the electronics and embedded software and how these systems work. We have therefore been innovating in terms of designing for the commercial satellite industry and also for the space exploration industry. It was always in our minds that this is what we would do so it's now great to able to really start. We have been chipping away at that model and now it's all coming together on a bigger scale that allows us to have the backing of revenues and to be able to enter new markets.
Can we talk about the deep space aspect of the business and also the plans to complete the network by positioning ground stations in the USA and Australia? What will this enable you to do?
Back in the 1970's, Goonhilly was one of the major global teleports for broadcast and telephony. Since we have taken over the site, it has always been an ambition of ours to get involved with deep space – to directly communicate with spacecraft. That is something brand new for Goonhilly and something that had only previously been achieved by the likes of NASA and ESA with dedicated deep space ground systems. Our ambition was to become a commercial operator rather than a space agency operator. Today, we have become the world's first private space teleport operator. What does this mean? The world of space exploration is growing at a phenomenal rate. There has been much renewed interest in exploring the Moon and Mars and in terms of going to Mars, missions can only happen once every two years. So space agencies have realised that the Moon is an ideal stepping stone and of course, you can launch at any time to the Moon. With the 50th anniversary of the Apollo Moon landings coming up next year, I think there has been a great resurgence in interest not only by space agencies but by private companies. However I don't think many people have thought about the ground infrastructure that's going to be required, but that's precisely what we've been doing. There's a lack of antennas that can pick up the signals for these types of mission. We have spotted a gap in the market and we are filling it.
R&D is obviously pivotal for this sector. How will Goonhilly be supporting space R&D?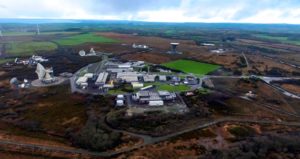 Our heritage is based around the design of communications systems. We have done a lot of work in the past on antenna design and we have a very deep connection and working relationship with the radio astronomy community in the UK whose specialisation is connecting antennas and antenna design. They are right at the cutting edge of their field of radio astronomy and this has truly pushed the boundaries. We already have some design engineering capability within the company but we are going to be building that up and opening an office at Farnborough to help us to recruit talented design engineers so we can expand that capability. We will be focusing our R&D efforts on antennas, software defined radio and phased array antennas systems.
How does Goonhilly plan to shake up the broadcasting and enterprise satcom sector? This will encompass satellites in all orbits. What are your plans in this area?
We already host satellite antennas for low orbiting satellites. It's a new area and I don't personally feel that anybody has worked out what the business model should be for the new constellation market. It's difficult because the satellites are moving across the sky and it's something that teleport operators haven't had to deal with for decades. Most of them have only ever dealt with GEO satellites. We are extremely interested in trying to find the best model to support LEO spacecraft operators and users of the data. Expanding internationally gives us the option to add antennas in different parts of the world. We are also interested in the changing GEO satellite market and we have been doing some work with Falmouth University on the future of TV and exploring how it's changing and becoming more interactive. We are looking at the delivery of that content and how it can be made more interactive via satellite or cable. So that's another area of R&D we will be working on.
Goonhilly has always worked closely with academia and offered courses for students. How will you be building on this?
We have a very strong outreach programme. If schools want to come and visit us we try and say yes whenever possible. We run certain educational programmes too. We've just hosted 24 'A' level students on a summer school and we run that at least twice a year. We also have young people coming in to do work experience – graduates or undergraduates that are currently engaged in degrees. I believe those programmes are absolutely critical to what we do. We have a very strong relationship with the radio astronomy community. We are converting some of our antennas to become radio telescopes or dual use radio/deep space antennas which gives us a fantastic technical edge. The radio astronomers are trying to locate the very faintest signals brought about by the Big Bang, so by using their expertise to build extremely sensitive receivers it makes our deep space capabilities better. We are also working on collaboration programmes in Africa, in Mexico, the Far East and the Philippines to do outreach with the universities and that enables us to give back to universities and opens up business opportunities for us. We're also looking to support the UK space ambition to grow the space economy to 10% of the world space turnover by 2030. To do that the UK needs 100,000 news space engineers. So we are looking to work with universities to create a MSc course in space entrepreneurship so that we can so that we can prepare recent graduates both as excellent engineers but also as entrepreneurs and business people of the future.
SpaceWatch.Global thanks Ian Jones of Goonhilly for the interview.