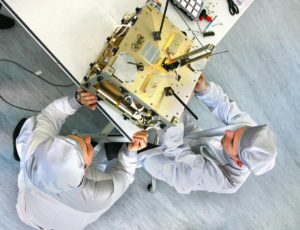 If one wants to attract private companies and investments to the Russian space industry, it is necessary to amend the existing legislation, Valentin Uvarov, vice-president of the International Association of Space Activities Participants, member of the Russian Academy of Sciences' Space Council, says.
As previously stated by Dmitry Rogozin, General Director of the Roscosmos State Corporation, the revival of Russian cosmonautics will be connected with attracting private investors.
According to Uvarov, in order to attract private investors, 'a whole range of measures is required, including those aimed at improving the legal framework, including facilitating licensing for space activities, and easing of requirements in normative and technical documents'.
Uvarov recalls that the formation of favorable conditions for attracting private companies to the space sphere was fixed in the 'Foundations of the State Policy of the Russian Federation in the Field of the Space Activities Until 2030' of April 19th, 2013. However, this document hasn't got any further specification.
Uvarov believes that it is necessary to pay attention to the experience of American partners. He recalls that as early as 1984, a law on commercial space launches that encouraged private development of space launch vehicles and launch services was adopted in the U.S. In 2004 a whole package of laws was adopted, aimed at promoting the development of private crewed space flights and commercial space transportation.
According to Uvarov, the current Russian legislation does not define the subjects of the private sector of space activities. Also, no policy has been developed to attract higher education institutions, small and medium-sized companies to fulfill orders and conduct research and development work.
'Thus, we need to specify the legal rules, principles, and tasks that already exist in the legislative framework both in order to develop the public-private partnerships and create favourable conditions for private companies to take part in space activities. In general, we need to take the appropriate organizational, administrative and legal measures', the expert emphasizes.