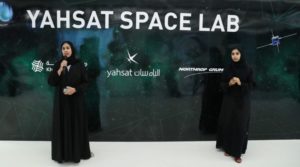 The Yahsat Space Lab at Masdar City in Abu Dhabi, UAE, has announced that the MYSAT-1 Nanosatellite — the first satellite to be built by students at the lab — will be launched from the United States in November 2018.
This launch not only marks a significant achievement for the students, but it is also another step toward the Arab Gulf country establishing itself as a regional hub for space education and satellite manufacturing.
The announcement of the successful completion of the assembly, integration and verification (AIV) of the engineering model of MYSAT-1, was made jointly by Yahsat and Khalifa University of Science and Technology. The nanosatellite was developed by students enrolled in the Space Systems and Technology Masters in Engineering Degree at Khalifa University.
The 'engineering model' of MYSAT-1, an exact replica of the flight satellite model, is built and rigorously tested for space environment conditions that simulate the actual conditions in during launch and in space and launch. Its review board declared  readiness for the production of the flight model.
The MYSAT-1 flight model is scheduled for shipment to its launch service provider and NASA in September, in preparation for launch in Q4 2018 from the Mid-Atlantic Regional Spaceport (MARS), on-board the Cygnus OA-10 flight to International Space Station.
Primarily an educational mission, MYSAT-1's payload consists of a camera designed to take images of the UAE from space, which will demonstrate the process of remote sensing. The satellite will also test a novel lithium-ion battery designed and developed at Khalifa University.
"We are proud of the students' remarkable achievement," said Mona Al Muhairi, Chief Human Capital Officer at Yahsat. "The completion of the MYSAT-1 engineering model marks a significant milestone for the Yahsat Space Lab. Yahsat is a proud contributor towards the UAE space agenda, through empowering national cadet with educational programs qualifying them to play an active role in further strengthening the UAE's position in the space sector. The achievement is the fruit of our partnership with Khalifa University and Northrop Grumman to create the regions first Masters in Engineering degree with a focus in Space Systems and Technology."
The Yahsat Space Lab was launched in 2017 at Masdar Institute in collaboration with Yahsat and Orbital ATK – now called Northrop Grumman Innovation Systems – to develop and advance technologies within the space sector in line with the UAE's advanced space ambitions. It is the first space systems lab in the UAE to be equipped with Assembly Integration and Verification (AIV) facilities that cater for nanosatellites "CubeSats" of up to 6U form factor, i.e size of 10x20x30cm and mass of 12kg. The lab also incorporates a VHF/UHF/S-Band ground station capable of autonomous operations.