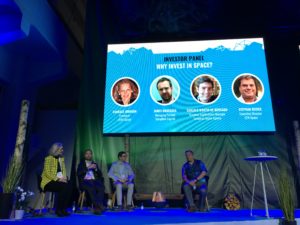 On May 30-31, 2018 the annual Arctic15 event dedicated to establishing links between startups, corporations and investors was held in Helsinki, Finland.
Every summer the capital of Finland welcomes attendees of Arctic15, the largest matchmaking event for young startups. This time, 1500-2000 people and 15 startups in various fields, from healthcare and AI to arts and space took part in the event. The meetings involved conferences and 'speed dating' between developers and potential investors. The organizers believe this exchange of ideas within a limited timeframe is capable of yielding unexpected results.
According to Valerie Vlasenko, the curator of Arctic15 Space, the problem with space is that it inspires many people who want to get into it, but there is little understanding among aspiring startups of how to achieve that, of the industry's needs, of how to raise capital for a space startup idea and how to turn that idea into business.
Her own goal is to bring together those who were doing something in space here so that together they can link these industries together and find out what is possible at the intersection. She is really interested in exploring things that emerge from the combination of PR, space, and marketing. All of those aspects were covered at Arctic15 and it is her hope that people who come to the track will be able to identify with these common points and build something on top of that.
As noted by Vlasenko, five years ago there was nothing space-related in Finland, but today this sector is on the rise. Due to such companies as Iceye, people start talking about the ways satellite imagery or space data can be used in different industries, and it sparks a lot of interest among young entrepreneurs.
'At the beginning of the year the Finnish Public Investment Authority, Business Finland, launched the NewSpace Economy Programme with ambitious plans to achieve €600 million in the services provided by the sector by 2020', Vlasenko said. 'Unfortunately, Finland doesn't have a human spaceflight programme. We don't know whether it is going to happen in the future or not but there is a lot of interest amongst young people in space'.
Furthermore, some Finnish universities take part in hackathons and challenges coming from ESA and NASA as well, and it gives students a chance to implement their space projects. There are quite a few initiatives in Finnish universities to help students work with space technology and in problem solving processes.
The number of space startups in Finland is expected to grow as the country is strong in the area of innovations. The events like Arctic15 will help contribute to this.