"The paradigm shift that we see today in space activities is best encapsulated by the term 'Space 4.0', and the 'Moon Village' concept seeks to transform this paradigm shift into a set of concrete actions and create an environment where both international cooperation and the commercialisation of space can thrive." – Jan Woerner, ESA Director General

The buzz about the Moon is picking up again. Decades after the first ever lunar landings, the space industry is placing the Moon firmly on the agenda once again with multiple initiatives that seek to make the Moon our base for future humanity and exploration into deeper space. Jan Woerner's concept of a 'Moon Village' which serves as a vision for global cooperation on the Moon in the future, has been turned into an initiative to help catalyse a framework in which to move forward for humanity's development of the Moon.
The Moon Village Association (MVA) may be a nascent organisation, but it already has representatives from 25 countries within its membership. The Association aims to promote collaboration between nations, private entities, organisations and individuals in order to develop a partnership that is 'larger and stronger than the ISS' and that will facilitate effective interoperability for all the different players that want to participate in the development and discovery of our closest celestial neighbour.
The MVA very recently held its inaugural Workshop at the International Space University (ISU) in Strasbourg. SpaceWatch Middle East's Torsten Kriening took the opportunity to speak to MVA Inaugural Advisory Council Member, Chris Welch, who is also Professor of Space Engineering at the ISU, to find out more about the Association's vision and the importance of this collaboration for our lunar future.
What is MVA about?
The Moon Village concept was originated by the ESA Director General Jan Woerner shortly after he was appointed. Though it has become very popular, I feel that some people have not completely understood what it is. People have taken the word 'village' and construed it to mean human habitation of the Moon which it isn't – that's only part of it.
What Mr. Woerner was trying to propose was an international cooperative and open framework for space agencies, countries and organisations that will enable them to do things collaboratively on the Moon. It's not one single, large-scale project, but a framework within which lots of different players can take part. If they want to build a Moon base they can; if they want to send a rover they can; if they want to put a cubesat into orbit around the Moon they can do that too; but it's a case of doing all this under a common framework.
The Moon Village is relevant is because it allows a very broad spectrum of players to contribute to an activity which is moving in a common direction but it also allows everyone to get something of what they want. You don't have to sign up to any inter-governmental agreement but it will benefit all the parties. It would be very useful if there were some international standards for all sorts of areas of operation such as radio communications operation, data transfer – even something as simple as electric plugs. If we have a German rover on the Moon and an American Moon base, can the German rover plug in at the American Moon base or is it like on the ground where we have different voltages and different plugs? If we do that in space it will make things even more complicated, so there is definitely a requirement for interoperability. That's one area where we need to make progress.
You are conducting your first workshop here in Strasbourg. What do you hope to achieve?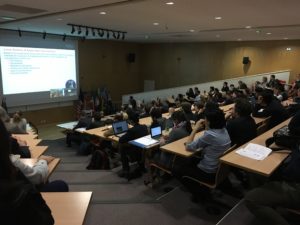 The association has been established to promote the Moon Village concept internationally. There is still the perception that this is an ESA programme, or it is Mr. Woerner's programme. He is obviously a champion of it but he does not want to run it. The idea is to inspire lots of other people to join in.
We now have more than 20 countries represented within the organisation to help promote the concept and to decide on what needs to be done to facilitate the Moon Village. So the first step is to have our inaugural workshop here at the ISU in Strasbourg. We have brought together some key players and we have had a series of presentations on some very diverse topics – some on policy, some on scientific and technical aspects but also cultural aspects, so it has been very broad and interdisciplinary. We are following this with a series of breakout sessions where we ask delegates to consider some questions to do with science, engineering, business opportunities and how we coordinate the different players in Moon Village. We don't expect to get complete answers right now. We will bring together all the feedback from these many groups and, in the weeks to come, we will collate it and identify the synergies within the sets of results. We then hope to promote these, first of all in the governmental realm. Then, next year there are two particularly important meetings that we hope to attend – the International Space Exploration Forum in Japan and UNISPACE +50 in Vienna. They will be two good forums at which to present the findings. At the same time, we will be building our Moon Village Network.
How can I, as an individual join the Moon Village Association?
If anyone is interested in joining the Moon Village Network, you can join as an individual or as a partner organisation on our website which is www.moonvillageassociation.org.
What is the ultimate goal for the MVA in terms of comparing it with something that we have on Earth? Do you see it as a UN-type organisation?
I think the ultimate future for the MVA is to say that our work here is done and we no longer need to exist because once the Moon Village happens, it will become a natural domain of human activity. But we're not there yet. 50 years from now, maybe, when there is a Moon base on the Moon and there are spacecraft travelling between Earth and the Moon, the idea that we need an organisation to promote it will become a bit redundant. It may be that, at that point, the organisation evolves into something else. However, once we get on the Moon, the organisation, strictly speaking, would cease to exist. We are creating it for a purpose so when that purpose is done we either evolve or stop.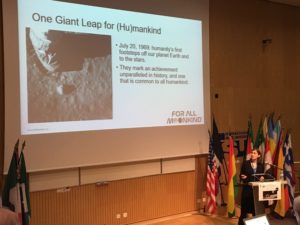 We have seen a great deal of different presentation here at the Workshop from state actors, government, space agencies and private actors – and everyone is dreaming of the moon. However, they are far away from being coordinated or interlinked. How can this interoperability be established? You mentioned you want to address governments, but will it not be private industry that takes the lead?
We want to present to the governments so they are aware. I think you're right and that private industry is going to be increasingly involved as we go forward but at the same time, the organisation is not about trying to create a coordinated integrated world programme to go to the Moon. Once you do that, you have to involve all the space agencies and many different organisations and therefore it gets very complicated.
We are trying to encourage more people to go to the Moon and we are trying to encourage more people to think about how they will achieve that and how the various different pieces can fit together as we go forward. This will enable more people to develop the capability to go. We are not just talking about the big actors and space agencies. Smaller countries could send something to the Moon. Perhaps a developing country could build a small rover and pay a commercial company to send it. Then, once it arrives at the Moon, it can navigate and communicate through the common standards that we have implemented. Otherwise they would have to put up their own navigation system, their own charging capability etc. Those are some of the issues. But our aim is not to set up a big organisation because that requires years of negotiation. We don't want to become an international lunar authority. We want to get people to talk and agree and move forward.
There is no representative from the Middle East here at the workshop. What is your call to actors in the ME that are already involved in space? What do you say to encourage ME space players?
We are keen to welcome as many players as we can. The association is relatively young at the moment so we want to encourage more people, to get more members and to have more representation. At the moment, the governance of the association is quite small but as we create the kind of structure that will allow for representation at local levels, we would hope to encourage regional Moon Village Groups. We are just at the very beginning and we want to see this grow all over the world. We want to encourage people to get involved and participate rather than to tell them what they must do.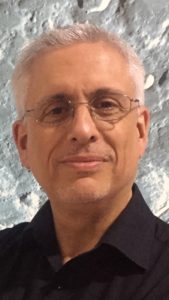 Chris Welch is Professor of Space Engineering at the International Space University in Strasbourg, France, where he is also Director of Masters Programs. Prof Welch is currently a Vice President of the International Astronautical Federation (IAF), Vice Chair of the World Space Week Association. He is a former Vice-President of the British Interplanetary Society, of which he is a Fellow, together with the Royal Aeronautical Society and Royal Astronomical Society. He sits on several boards and advisory groups including the Arts Catalyst, the Initiative for Interstellar Studies and the Moon Village Association.
SpaceWatch Middle East thanks Chris Welch of Moon Village Association for the interview.
Original published at: https://spacewatch.global/2017/12/spacewatchme-interviews-chris-welch/