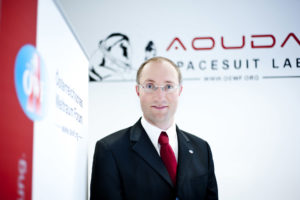 Since 2006, the Austrian Space Forum has been conducting simulated expeditions to Mars. Known as 'analogue simulations', these enable the Austrian Space Forum and its many partners, to anticipate what human and robotic exploration of the Mars will be like, to test out prototype spacesuits and to develop new concepts and technologies that could eventually be used on a mission to the Red Planet. These highly involved expeditions have taken place in the most remote and hostile parts of the Earth including ice caves, the Sahara Desert and a glacier. SpaceWatch Middle East Editor-in-Chief Helen Jameson has been privileged to speak to Gernot Groemer, who has led the Mars analogue missions for the Austrian Space Forum from the start.
Can you begin by telling us a little about the Austrian Space Forum and its work?
We are a research organisation based in Austria, which also includes a citizen science organisation with about 200 members. We have been doing Mars analogue simulations for almost fifteen years now and we are about twenty years old. We have been managing the teams that carry out Mars analogue research projects in various locations ranging from Southern Spain to the Northern Sahara and the next mission will be our twelfth analogue mission. We conduct basic research with a focus on spaceflight to see how your body will behave on Mars and to develop techniques for exploration, but at the same time we also do a lot of education and outreach as well. We call ourselves the Austrian Space Forum but at least a fifth of our people don't even speak German anymore so we are a very international organisation. For our upcoming simulation, the AMADEE 18 mission, we have more than 20 countries participating.
What kind of appetite is there for space in Austria at the moment? Is there a lot of interest?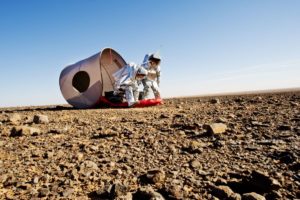 This is a question we are asked a lot! What is Austria doing in the space business?  There are many instances where Austrian companies are playing a role, especially in terms of Galileo and Copernicus but this is not very palpable in terms of the general population. However, we realise that, when we go into schools, when we speak to business people or to reporters and politicians, there is an interest and we feel that there is a growing space movement in Austria. There has been a change from people asking if we are going to Mars to when we are going to Mars. This signals to us that there is a growing interest in space in general. There is also a space research and industrial community in Austria. It is small but it's a vibrant one. I see Austria as one of the many players of the future that will contribute to space.
Since what year have the AMADEE missions been taking place?
The first mission was in 2006. This was way back when people were asking us whether the analogue research was serious or whether it was just people jumping around in spacesuits. This has evolved dramatically, and we see an emergence of a new field of science which has a very interdisciplinary approach combining human science, astrobiology and operational sciences. We believe that there has to be a respect for all the fields involved and some fundamental understanding of how all the disciplines work. This leads to cross-fertilising. We are now at a point where we are thankfully past the point of discussing whether we should send humans or robots to Mars into the field of let's send them both. It has turned form a geeky playground for a few visionaries fifty years ago into a toolset which is highly efficient at testing equipment, workflows and making future missions safer and more effective. It's like a catalyst for future space cooperation beyond the ISS.
You are obviously preparing for the next mission. Can you give us a sense of what the mission will entail and what you hope to achieve from this particular simulation?
First of all, we are going to deploy a crew of sixteen people for one month in the Dhofar region of Oman. This crew includes five analogue astronauts who have been very carefully selected and trained for the mission. This crew is supported by a dedicated mission support centre which is a much bigger part of the mission and will comprise around 55 controllers, remote science support people and another 50-80 people that will deal with the experiments we are doing plus outreach  and legal team and so on. We are looking at a team of about 200 people altogether from 20 plus nations and they are going to emulate selected aspects of the human and robotic Mars mission.
We have been devising a process to select 19 experiments which are very carefully chosen and range from robotics and flying drones for mapping autonomously to astrobiological experiments, geoscience, psychology and so on. This gives an exquisitely designed package which enables us to look at the interplay between the experiments. We are emulating the search for traces of life on Mars/Oman. We are going in only with the knowledge we have from remote sensing and physical sample return in the way you would expect for an actual Mars mission. We are blinding our researchers. We are not allowing them to read any information about the geology of Oman. They go in and only work with what they have to study with their own instruments. After that, they compile as complete a picture as possible of the test site. Then, there comes a magic moment when we then relate what has been found during the simulation to the text book on geology in Oman and look at what was missed. We can then get a feel for the completeness of our science so that when we go to Mars, and we don't have a textbook on the geology of Mars, we have a good chance that we are not missing anything important.
How did you select the test site?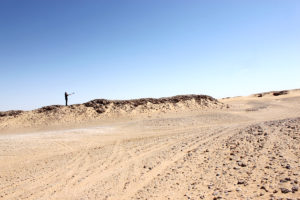 That was quite a process to be honest. We were looking into a couple of countries. We firstly analyse the geology of a country and then we have to look into the safety of a country and into logistics. It boiled down to regions in Israel and Oman. We then asked for bids from the host countries and, after we had carried out both site visits, we were able to make that decision.
It means that, when we go in, it's not just for deploying our equipment in the desert but it's also to offer something to the country. What we're bringing in are two things and I think these are the reasons why Oman is so eager to work with us. We will install a base station in the middle of the Dhofar desert and we are bringing in international visibility. The mission also acts as a catalyst from STEM/STEAM subjects because the mission has a high visibility. This is a country that is eager for knowledge. They see education and R&D as the oil of the 21st and 22nd centuries and they need to invest now.
In terms of the information that you collate, are you going to share this with countries that are partnering on the Mars analogue simulations?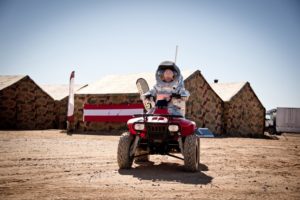 Absolutely. There was a condition that we were gladly willing to accept that we would let them experience the process all along in terms of the how the experiments are selected, how the crew is trained etc. We will have one Omani crew member who will be part of the team who will work with us and live with us for one month to inhale the spirit of analogue research but at the same time, we will host four carefully-selected Omani students that will spend time in Austria next Summer to work their way through all the data processing in preparation for the next mission and analogue astronaut selection. Once they go back to Oman, they will have a great deal of knowledge under their belt. If they can create a group of followers, we have planted a seed for analogue research and spaceflight in general in Oman. We are starting at zero here when it comes to analog research. Oman has a few companies that are involved in space, but they aspire to more. They wanted to find out the most efficient way of creating a long term roadmap for catalysing this sort of education.
Can we talk briefly about the selection process for the volunteers that will be going out to Oman. What kind of people are they and what will they go through?
There are two types of volunteers. First of all, there are professionals like medical doctors who undergo an advanced training course where they get some basic technical education and live and work in the field under space-like conditions and perform as medical doctors. At the other end of the spectrum, we have our analogue astronauts who have been carefully selected. They have been chosen from more than 100 applicants across Europe. We selected five of them to undergo the basic training which takes five months. Every one of our analogue astronauts has to undergo a barrage of 637 individual tests so we get to know them really well! Their job is to basically emulate things yet to come. They are not flight trained as they do not need to be. They have a unique sneak preview of the future!
They come from various backgrounds. We have one medical doctor, a scientist, three astronautics engineers and one mathematician, including one lady. We were delighted to include a female analogue astronaut! Once they have completed their basic training they are on a continuous training regime until they are assigned to a mission and then they go into mission-specific training. We are halfway through now and we have recently completed their second dress rehearsal. They now start their physical training, their nutrition training and so on. We have some top notch people who are instructing them on how to keep healthy and become more sporty besides all the technical training.
How did you become involved?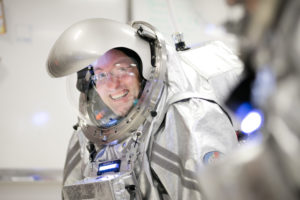 I am one of the dinosaurs! I am an astrophysicist by training and I'm also a paramedic. There was a call in 2002 from the International Mars Society. I remember the ad – Hard Work, No Pay, Eternal Glory – and they were looking for crewmembers for the Mars Desert Research Station. One requirement was for an astrophysicist with a medical background and that's a pretty rare combination. I was selected amongst 400 candidates and had the luck and the opportunity to become part of the crew as the only European. That got me hooked, because you instantaneously realise that you are a part of something very big. Space is a team sport. You are working with bright, enthusiastic and engaged people and you feel a lot of obligation and responsibility when you are engaged in the experiments.
I got my very basic training there and I realised there were not a lot of groups doing this on a continuous basis so when I came back from the mission, I was super charged and energised to do something about it. We persuaded the Board of Directors of the Austrian Space Forum to take the lead on a major programme which started in 2006 – The PolAres Programme. We are now in the transition phase for the next major programme – AMADEE – of which the 18 mission will be the first. We have had to find our way in the darkness. No-one has done this before. It's a privilege to design and evolve the future.
The plan is to hold the AMADEE missions every 2-3 years. There is a lot to do on the completion of a mission. We have to digest all the information from the field and to spend time training. We feed all of this information into a well-defined work flow that that takes in the changes in the space field.  It's not trial and error anymore but something that is carefully planned. We are getting lots of requests from people who want to work with us. If you look back 20 years to where we started as a group of enthusiastic students from the ISU saying that we need to do something about this and to make Austria more prominent in space, we have a come a long way!
SpaceWatch Middle East thanks Gernot Groemer of Austrian Space Forum for the interview.
Original published at: https://spacewatch.global/2017/11/spacewatchme-interviews-gernot-groemer-austrian-space-forum/