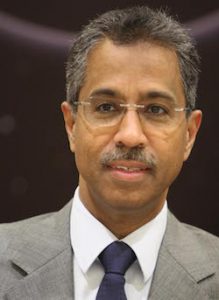 A recent analysis by Frost & Sullivan, a global research and consulting company, finds that Arabsat, one of the world's leading satellite operators, reaches 86% of satellite TV households in the Kingdom of Saudi Arabia (KSA) and nearly 78% in other Gulf Cooperation Council (GCC) states, including Bahrain, Kuwait, KSA, Oman, Qatar, and the UAE.
Arabsat, carries over 500 TV channels, 200 radio stations, pay TV networks, and a wide variety of High Definition (HD) channels reaching nearly 4 million households in the GCC. Operating six satellites at three orbital positions, the operator offers the youngest regional fleet with widespread coverage over the region.
"Satellite services continue to be an essential way of providing entertainment and communications across the entire MENA [Middle East and North Africa] region where network connectivity is not uniform," says Y.S. Shashidhar, managing director of Frost & Sullivan MENA. "Arabsat, with its constant emphasis on innovativeness and partnerships, is firmly poised to help its broadcaster customers connect to a wide user base in the region."
Frost & Sullivan's research director, Vidya S. Nath, adds, "Arabsat's exclusive and strategic partnerships with leading international and regional broadcasting networks have enabled it to establish a significant footprint over GCC, especially KSA."
Frost & Sullivan finds growing demand among end users for high quality of transmission resulting from the rapid increase in the penetration of 4K and HDR TV sets, receivers, Internet streaming boxes, as well as cellular hand-held devices. Broadcasters and service providers eyeing viewership retention for boosting their revenue need partners that can offer optimal quality of transmission as well as the widest reach.
"Innovativeness to ensure the highest quality of experience for the viewer stands as our core undertaking and motto," says Khalid Balkheyour, President and CEO of Arabsat. "Such keenness on innovativeness has both motivated and helped us build an exclusive portfolio of leading regional networks in the region, including the foremost MBC Pro Sports along with exclusive rights to broadcast the Saudi Football League, MBC full HD bouquet, and Rotana full HD bouquet," he said. "Alongside, to establish our footprint in the Maghreb region, we have launched several strategic initiatives. We want to offer the viewers in Maghreb unparalleled content offering and hence we have on board exclusive access to the complete Mauritanian bouquet, the complete FTA MBC bouquet, the My-Maghreb package as well several other attractive channels across different genres."
ARABSAT's ability to ensure localization combined with international diversity of content makes it a platform of choice for both broadcasters as well as viewers in the MENA region. It has a strong portfolio of exclusive first-class channels for the region such as France 24 Arabic and English HD, TV5 Monde Style HD, among several others.
Original piblished at: https://spacewatch.global/2017/10/arabsat-reaching-78-gulf-cooperation-council-households-report-finds/