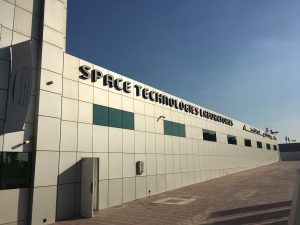 To strengthen links of cooperation between educational institutions in the UAE and centre's specialized in advanced technology, science and space, the Mohammed Bin Rashid Space Centre (MBRSC) has signed a Memorandum of Understanding with the University of Dubai (UD). The MoU aims to develop and qualify national human resources capable of working in the space science technology sector, and thereby contribute to the development of the sector in the United Arab Emirates.
The MoU was signed by H.E. Yousuf Hamad Al Shaibani, Director General of MBRSC, and H.E. Dr. Eesa Bastaki, President of University of Dubai, in the presence of a number of executive officials from the MBRSC and the university.
According to the MoU, both sides will coordinate to design and prepare educational, training, or qualification programmes in the scientific specialties related to the space sciences, technologies, and satellites. In addition to that, the MBRSC and the University of Dubai will cooperate in providing students practical training opportunities, scholarships under MBRSC's "Entaliq" Scholarship Programme, and job opportunities for outstanding students.
Following the signing of the MoU, H.E. Yousuf Al Shaibani, Director General of MBRSC, praised the, "efforts of University of Dubai in offering educational programmes that meet highest educational standards. The signing of the MoU coincides with the Centre's mission and strategy in building qualified national cadres in space field to support developing a unique UAE space sector."
Al Shaibani emphasize that the "cooperation between the Centre and the educational institutions is a scientific and an educational power to the development of science, technology and space sectors in the UAE. Also, such partnerships will direct these institutions towards new educational programmes and disciplines that will serve both UAE national strategies and UAE National Space Programme."
"We believe that MBRSC as a scientific and research centre specialised in space and advanced technology and higher education institutions have a complementary role to build capabilities and develop human resources and research activities in space science," Al Shaibani concluded.
UD President H.E. Dr. Eesa Bastaki said, "Space is the future. The University of Dubai seeks to establish a generation of pioneers, engineers and intellectuals aiming for the top. Our role as an educational institution is to provide knowledge, the necessary tools and equipment, and stimulate scientific research." Dr. Bastaki added that the agreement, which he categorised as fundamental, will contribute to the development of the educational sector and enhance innovation and creativity, in line with the UAE's strategic plans.
Original published at: https://spacewatch.global/2017/06/uaes-mbrsc-signs-stem-education-mou-university-dubai/