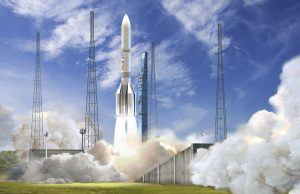 According to Euroconsult's newly released research report, Government Space Programs: Benchmarks, Profiles and Forecasts to 2026, global space budgets totaled $62.2 billion in 2016, down 2% from the previous year. Governments launched 75 satellites, less than the historical peak of 2015 but in line with the last five year average.
"The good news is that 2017 should mark a turning point with budgets recovering growth after five years of erosion," said Steve Bochinger, COO at Euroconsult and editor of the report.
"The last few years were marked by opposing trends between countries boosting their spending and those forced to apply cost-cutting measures. Most countries, especially the leading ones, should converge into a new investment cycle that should drive up investments in space programmes globally for the coming years."
The report forecasts global spending to grow at an estimated $79 billion invested annually in government space programmes by 2026.
The number of countries investing in space is steadily increasing, with 70 countries in 2016, up from 47 a decade ago. In the coming years over 80 countries are planning to invest in space technologies and capabilities, showing that governments consider space a valuable investment to support their national socio-economic, strategic and technological development.
Along with a strategic outlook containing global trends and detailed profiles of top space programmes, Government Space Programs: Benchmarks, Profiles and Forecasts to 2026 assesses current and future trends for each major space application. Key findings of the report include:
+ Civil programmes account for a growing proportion of global expenditures (65%). Defence and civil expenditures were almost on par at the end of the last decade.
+ The US, by far the world's largest space spender with $35.9 billion estimated in 2016, has started to reverse the budget slide initiated in 2010 from which it lost 25% of its investment.
+ China overtook Russia in 2016 as the second largest space programme at an estimated RMB 32.6 billion ($4.9 billion), growing at 11% CAGR in local currency.
+ After 15 years of continuous and strong growth, Russian investment in space dropped sharply in 2016, due to budget cuts, down by 20% in local currency (RUB 213 billion, $3.2 billion).
+ Another four countries plus the EU invest over $1 billion in their space programmes: Japan, France, Germany and India.
+ Manned spaceflight is the largest expenditure with $11.4 billion invested. The development of next-generation orbital infrastructures and future space exploration missions will support growing investment in the domain. Earth observation, at $10.9 billion, is the second-highest spending area with 58 countries investing, the highest of any application. Launchers come third at $6 billion as Asia posts strong growth, with China equaling US orbital launches in 2016.
Government Space Programs: Benchmarks, Profiles and Forecasts to 2026 provides an extensive view of the economic, policy and programmatic trends of government space programmes with a strategic outlook containing global trends, forecasts and benchmarks by country, region and application; a comprehensive analysis of current and future trends in space applications globally, by country, and by region; and detailed profiles of the top 15 space programmes.
Original published at: https://spacewatch.global/2017/06/government-space-programme-spending-reaches-62-billion-2016/