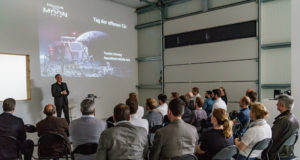 Berlin-based NewSpace company PTScientists opened their doors for a public event on March 31 and April 1, 2017.
The open house day was very well attended by mission partners, family, and space enthusiast friends. Over 150 visitors used the open house opportunity to meet the PTScientists team and get an inside view of itsMission to the Moon. SpaceWatch Middle East's Torsten Kriening had the privilege to moderate the open day, which included short presentations by Robert Boehme, CEO, Juergen Brandner, CTO, and by Karsten Becker, Head of Electronics at PTScientists, followed by a demonstration of the Audi Lunar Quattro driving capabilities in PTScientists' own lunar surface test bed. A tour through the PTScientists facility and intense discussions about the Mission to the Moon goals gave visitors a unique insight into the activities planned for the coming years.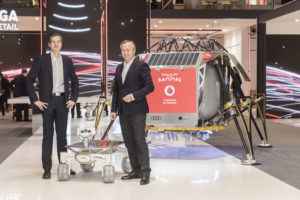 In mid-March this year, PTScientists and Vodafone Germany signed a cooperation agreement at CeBIT to provide communication infrastructure on the lunar surface based on LTE-V standards. Together with AUDI AG, Vodafone is another non-space company that is expressing a real commitment to, and interest in, space missions and space exploration. Part of the first Mission to the Moon by mid-2018 will be the deployment of two Audi Lunar Quattro's that will revisit and explore the Apollo 17 landing sites.
During the open house day SpaceWatch Middle East had the chance to speak to Robert Boehme, CEO of PTScientists. He mentioned that the new partnership with Vodafone will enable PTScientists to save energy for the Audi Lunar Quattro as the communication with the LTE-V base station at their ALINA lander will use just one-tenth of the communications budget. This will lead to more agile operations on the Moon's surface. Robert added that, "In order for humanity to leave the cradle of Earth, we need to develop infrastructures beyond our home planet. With Mission to the Moon we will establish and test the first elements of a dedicated communications network on the Moon."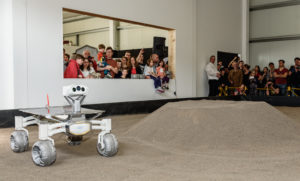 The team at PTScientists have been working on their spacecraft and lander called ALINA and rovers for eight years. Karsten Becker added that, "We will be collecting a lot of scientific data on the Moon and the high-speed data connectivity will enable the rovers to communicate with ALINA to send that valuable data back to Earth"
The PTScientists team is excited and optimistic that they will reach the Moon soon.
Many visitors and partners at the open house day mentioned that it is very rare for a space company to be this transparent and welcoming to cooperation, which is not surprising since one of the core elements of the entire Mission to the Moon is fostering education and engagement in science.
Original published at: https://spacewatch.global/2017/04/open-house-at-ptscientists-mission-to-the-moon/