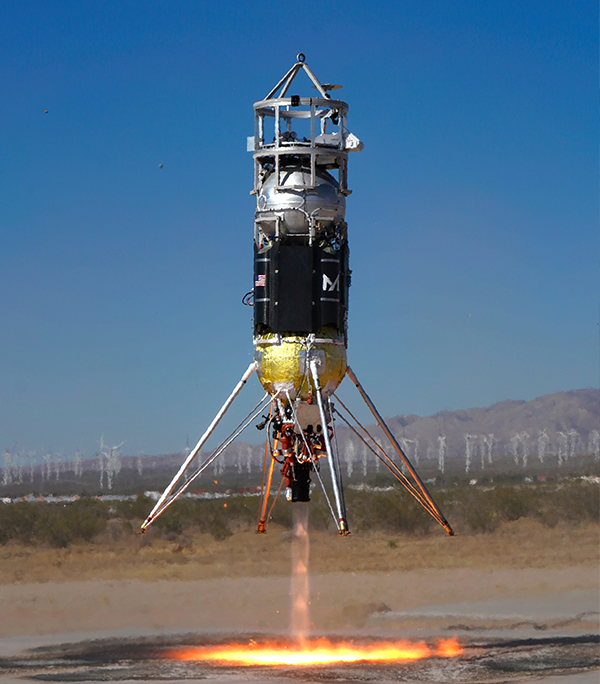 London, 12 October 2023 – Astrobotic, an American company developing space robotics technology for lunar and planetary missions, announced on the 10th of October that it has successfully completed a flight test campaign for the University of Central Florida (UCF). The flight test took place last week at the company's facility in Mojave, California. 
The campaign consisted of four flights aboard Astrobotic's Xodiac VTVL rocket to test UCF's Ejecta STORM laser sensor, which was developed by Dr. Phil Metzger. It will study plume-surface interactions (PSI) between a rocket plume and lunar regolith. The test campaign will provide data to help better understand PSI for humanity's return to the Moon under NASA's Artemis program. 
Xodiac is Astrobotic's fourth-generation rocket-powered terrestrial lander that simulates lunar and planetary landings, test flight systems and hardware in the loop. 
The test flight was conducted by Astrobotic's Propulsion & Test Department whose workforce, vehicles and assets came from Masten Space Systems, acquired last September by Astrobotic. 
"It's great to be flying again. I'm thrilled that we can continue to provide this unique flight test capability for our customers as part of Astrobotic," said David Masten, Chief Engineer for Astrobotic's Propulsion & Test Department. "We designed Xodiac for maximum reusability, and the fact that we're still flying the same vehicle eight years later says a lot about Xodiac's durability and the value of the services it provides."
Astrobotic's next Xodiac campaign will provide flight testing for the three winning teams of the TechLeap Prize, which is managed by NASA's Flight Opportunities program. The teams have developed systems which aim to detect hazards from an altitude of at least 250 metres and process the data in real-time to help spacecraft land safely in the dark.