by Viktoria Urban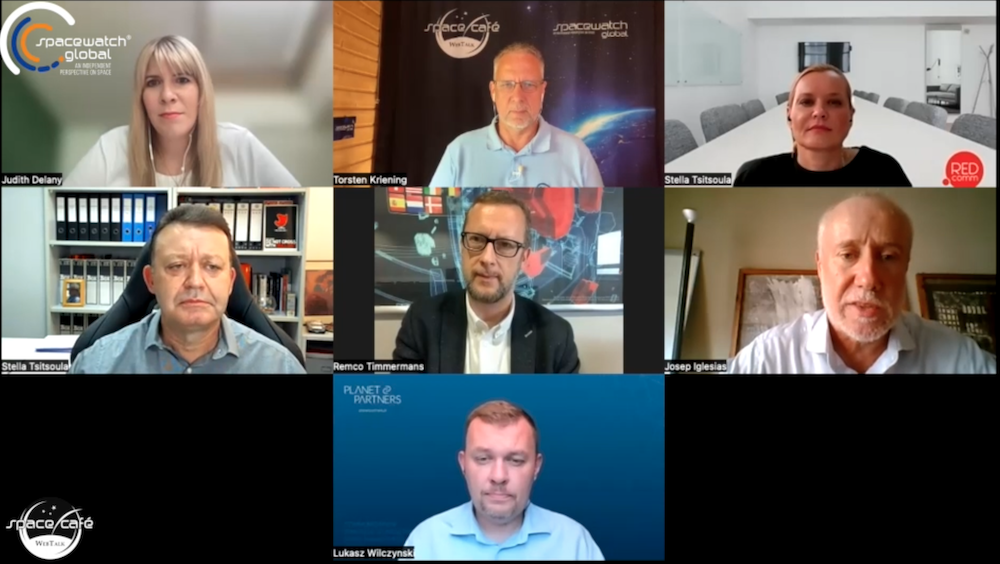 Our "33 minutes with the Space Communications Alliance – The next level in Space Outreach and Space Communications?" took place on Tuesday, 13th September. 
Torsten talked to founders Lukasz Wilczynski, Judith Delany, Remco Timmermans, Stella Tsitsoula, Nikos Karanassios and Josep Iglesias. Spacewatch.Global is also one of the founding members of the Alliance.
Judith is the CEO and co-founder of Perihelion, a creative agency for the space sector based in Vienna. The agency delivers visual communication, animation, content production and digital marketing services. Stella is the managing partner of RED.comm, a Greek agency specialized in communications mainly for the information technology industry. During the past 20 years, RED.comm developed expertise related to information- and cyber security. Nikos Karanassios also works for the company as a Client Service Director.
Lukasz is the founder and former CEO of Planet Partners, an agency specialized in comprehensive communication services for tech companies, and the space sector. Josep is a partner and CEO of IT Comunicación, a PR and communication company based in Barcelona with the space industry being one of the key strategic sectors it is working in. Remco is the founder and CEO of Spaceside, an online marketing and social media agency dedicated to space.
The mission of the world's first dedicated, fully integrated marketing communication network for the sector, the Space Communication Alliance, is to connect innovators with customers and partners through integrated public relations, content, marketing and social media campaigns that give tangible results, according to the website. Lukasz says the reason they launched the Alliance is that the space sector is rapidly becoming the most critical sector for a growing number of countries. It is a strategic domain for defense, security, climate change and connectivity. Therefore, Lukasz thinks that the communication of this specialized sector demands deep knowledge of the industry itself. 
"… my experience … in working for the space sector tells me that there is strength in unity and diversity together," says Lukasz.
Judith states that it is important to always try something new, otherwise it is impossible to evolve. She says that founding members are excited to continue their careers within the space sector and support each other's companies. 
"There's the saying, you're a jack of all trades and master of none. And if you are a jack of all trades and try to do everything, you won't do anything well, or you can specialize and be really good at what you do," she says.
Judith claims it is vital to find others who are also really good at what they do, and work together with them. She thinks this is what the Alliance is doing: working together to make sure that every aspect of a project is covered by the best possible person for the job.
Space Communications Alliance is a global project and although the founding members are from Europe, it is planning to grow in other areas of the world as well. It is open to anyone experienced in PR and communications that can serve clients in the space sector.
"I always believed that in space, there is a space for everyone," says Lukasz.
The Alliance welcomes all sectors that have anything to do with space. Once the goals and needs are defined, the Alliance will be able to identify the right solution for the business. The services are not exclusive to companies alone, but are also targeting agencies, universities, and other institutions.
According to Remco, what sets the Alliance apart from other PR and marketing agencies, is that it speaks space. Members understand the space business and are able to translate that to the language of any audience, culture and language.
To listen to the Space Café WebTalk's insights, you can watch the full program here:
Viktoria Urban, contributing Editor at SpaceWatch.Global: After graduating as a Journalist from Edinburgh Napier University, I am now doing an Astronomy and Planetary Science degree at The Open University (Scotland) which has enhanced my already existing love and enthusiasm for space. I am also a member of and a volunteer for several societies both in Hungary and in the UK and write online content on space for multiple companies as well. I hope my science communication will encourage many to find a job in the space sector, whatever their background and highlight important issues to ensure a sustainable space environment for future generations.