This Spa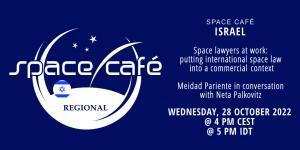 ce Café Israel will feature Neta Palkovitz, founder of the NewSpace Firm, in conversation with Meidad Pariente, correspondent of SpaceWatch.Global for Israel.
Space lawyers at work – putting international space law into a commercial context.
Would a commercial lawyer survive in outer space? Would a "space lawyer" thrive in a startup environment? Can public international law settle commercial interests? And what's the connection between space unicorns and sustainability? Enter a fascinating discussion about NewSpace, the commercialization of the space industry, and how traditional laws and regulations shape its future.
Dr. Neta Palkovitz is the founder of the NewSpace Firm, a consultancy specializing in space law, regulation and NewSpace activities. She is a qualified lawyer since 2009. She worked as the Legal Adviser of ISIS- Innovative Solutions In Space B.V. (ISISPACE) in the Netherlands for 10 years, where she handled launch contracts for the launch of +500 satellites, amongst her other responsibilities. She then joined Airbus Defence and Space Netherlands B.V. as a Senior Contracts Officer and Bid Manager, before starting her own consultancy. Neta holds a PhD in space law from the International Institute of Air and Space Law (IIASL) at Leiden University, and published a book titled: "Regulating a Revolution: Small Satellites and the Law of Outer Space". Neta was a lecturer at the IIASL, and teaches space law at Tel Aviv University.
The audience will have an opportunity to ask questions in dialogue with Neta Palkovitz.
SpaceWatch.Global is a Europe-based digital magazine and portal for those interested in space and the far-reaching impact of the space sector.
This Space Café Israel will be conducted in English on 28th October 2022 at 4pm CEST, 5pm IDT.
Reserve your place today.