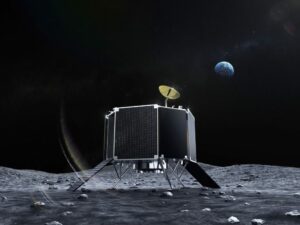 Edinburgh / Tokyo, 26 July 2022. – Lunar resource development company, ispace's subsidiary, ispace technologies U.S. will join a team, led by Draper, that has been awarded US $73 million to deliver payloads, including two communication relay satellites, to lunar orbit as well as a suite of scientific experiments to the lunar surface, ispace said.
Team Draper comprises General Atomics Electromagnetic Systems, Systima Technologies, and Karman Space & Defense as well. Launch and operations are expected to begin on the lunar surface in 2025, fulfilling NASA's Commercial Lunar Payload Services (CLPS) task order CP-12. The experiments are headed to the Schrödinger Basin impact crater on the far side of the Moon, near its South Pole. 
Team Draper is responsible for end-to-end delivery services, including payload integration, lunar delivery and payload operations. ispace will be the Team's lunar lander design agent. The company has previously been contracted by NASA for two lunar exploration missions, part of ispace's HAKUTO-R program. During these missions, ispace will collect regolith with its lander and use its rover to collect regolith during a second mission.
Future payloads delivered with CLPS could include technology demonstrations that support NASA's Artemis missions, the agency said. Artemis I is currently scheduled to launch no earlier than 29th August, with a subsequent crewed test flight in 2024.