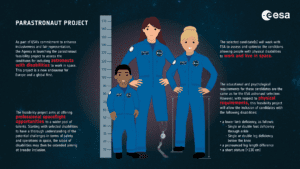 Aarhus, 8 July 2022. – ESA's astronaut selection has been progressing as planned, with the cognitive, technical, motor coordination and personality testing (Phase 2) ending in March, while psychometric testing, group and individual exercises and practical tests (Phase 3) ended in June this year.
Over 400 applicants took part in the psychological assessments of Phase 3, carried out by an international team of experts. This testing round was necessary to ensure that the candidates were psychologically ready to work as astronauts.
Phase 4 of the selection process, the one measuring applicants' physical and mental abilities against international medical standards for spaceflight missions, began in May and is still ongoing. The medical evaluation ensures selected candidates will be capable of enduring the physical challenges of space. The medical assessment includes astronaut applicants with a physical disability who would typically fail these tests. During the current selection process 'parastronauts' with lower limb deficiency and/or those with statures below 130 cm are considered for the role.
ESA will issue invitations to the final phases – panel interview testing technical and behavioural competencies and final interview with the Director General – later this summer. 
The Agency received over 22,000 valid applications to its first call for astronauts since 2008 last year. Of these, 1361 individuals could partake in Phase 2. ESA received 257 applications for the role of astronaut with a physical disability, 27 of which were invited to Phase 2. The selection of the final applicants is expected at the end of 2022.