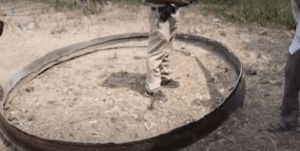 Edinburgh, 23 May 2022. – Several pieces of suspected space debris fell onto the rural parts of western India, Indian media reported. The time of the incident suggests these could be Chinese rocket parts re-entering Earth's atmosphere.
The objects crashed into the ground in Gujarat within a 15-km radius, accompanied by a loud noise. No properties were damaged and no one was hurt. One of the pieces is a five-kilogram black metal ball.
Both local authorities and the Indian Space Research Organisation (ISRO) are working on identifying the objects. Jonathan McDowell of the Harvard-Smithsonian Center for Astrophysics claims the debris could be part of a Chinese Long March 3B rocket. The rocket's third stage re-entered the same day the objects fell on the ground.
Just over a month ago, further space objects fell onto India, which ISRO attributed to the Chinese Long March rocket. In May 2021, remnants of the Long March 5B rocket fell into the Indian Ocean, while a year earlier Chinese rocket debris fell onto the Ivory Coast. A year prior to that, in 2019, a Long March 3B rocket stage destroyed a house near the Xichang Satellite Launch Center in China.