by Viktoria Urban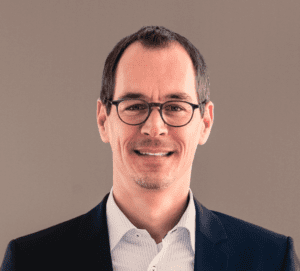 This weeks Space Cafe "33 minutes with Dr. Andreas Wittmer" about "What can space (regulation) learn from the Aviation sector?" took place on 15th March interviewing one of the creators and masterminds behind the Space for Business program, Dr. Andreas Wittmer.
Dr. Wittmer is the Programme Director of the Space for Business Program at the University of St. Gallen (HSG), he holds guest teaching positions at Swiss and international Universities on Bachelor-, Master- and Executive Levels. His research focuses on network industries, such as Aviation. His interests link with a better understanding of efficiencies generated by networks and the impacts on stakeholders.
He regularly publishes in international journals and books. He is a member of several editorial journals and conference boards. Furthermore, he is Vice President of the Swiss Aerospace Cluster, Vice President of the Swiss Aviation Research Center and freelance aircraft accident investigator at the Swiss Aircraft Accident Investigation Office. He holds awards for best teaching at Modul University Vienna, Best Paper Awards from AIEST Conference and Honours from FAI and Pro Aero Foundation for excellent work with the Center for Aviation Competence at the University of St. Gallen.
Dr Wittmer starts with a short historic overview of how regulations started in aviation. The first global regulations came at the Chicago convention when the ICAO (International Civil Aviation Organization) was founded at the end of World War II. This organization provides recommendations for the aviation industry on a global scale. In 1978, the US market was liberalized, the airlines were privatized and a free market economy in the aviation industry was created. This led to more dynamics in the market and also new business models like low cost carriers. The same happened in Europe in the 90s and then further liberalization in Asia, with more and more people using airlines for travel. This led to more and more planes, more development and innovation on the market. However, it also led to negative environmental effects.
He explains in more detail what ICAO does as well: it is a UN organization and it works based on consensus. Country representatives meet and discuss strategy developments for the future and sign protocols. He claims that the problem of the aviation industry is that there are regional policies or national policies, but global impact. Thus, global impact is only a second thought when making important decisions. He says the ICAO is taking a global approach and therefore it is very important for the industry.
Dr Wittmer says that regulating drones is a difficult task as well as there are no clear guidelines as to when they are regarded as model planes flying around for fun and when they become commercial.
He also shares his view on where aviation ends and where space begins. He says that aviation is mainly about the transport of people up to a level of about 14,000 m. He also thinks that space tourism is connecting aviation and space as they fly to the edge of space.
Dr. Wittmer thinks that the space industry could learn a lot from aviation, like how the industry grew over the decades creating tourism, mobility, and a global economy. In the last 10-15 years, they have also learned that this growth was not sustainable. Dr Wittmer is calling on space industry participants to think about how to self regulate and create policies not end up where aviation ended up. He is convinced that a globally managed aerospace could be the solution.
"If you have more and more traffic in space, you may get to the point where you have to manage it, otherwise you run the risk of having accidents and that can be disastrous."
Dr Wittmer emphasises that there is no free market, liberty and free economy without taking responsibility.
His vision for humanity in space in the coming decade includes him going to space as well. The question, he says, is what the impact of space travel will be.
To listen to the Space Café WebTalk's insights, you can watch the full program here:
Viktoria Urban, contributing Editor at SpaceWatch.Global: After graduating as a Journalist from Edinburgh Napier University, I am now doing an Astronomy and Planetary Science degree at The Open University (Scotland) which has enhanced my already existing love and enthusiasm for space. I am also a member of and a volunteer for several societies both in Hungary and in the UK and write online content on space for multiple companies as well. I hope my science communication will encourage many to find a job in the space sector, whatever their background and highlight important issues to ensure a sustainable space environment for future generations.