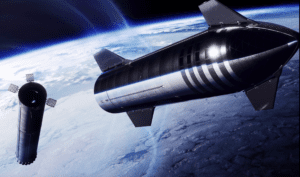 Edinburgh / Los Angeles, 15 February 2022. – Founder and CEO of Shift4, Jared Isaacman, announced the Polaris Program, a first-of-its-kind effort to rapidly advance human spaceflight capabilities, while continuing to raise funds and awareness for important causes on Earth. The program consists of three manned spaceflight missions demonstrating new technologies, conducting research, and concluding with SpaceX's first human Starship flight.
Polaris Dawn, the first mission, is planned for Q4 2022 to be commanded by Isaacman, who also led Inspiration4. The project will aim to achieve "the highest Earth orbit ever flown" while also conducting the first commercial spacewalk. The astronauts will be testing Starlink's laser-based communication system in space as well. Polaris Dawn will continue raising funds for St. Jude Children's Research Hospital.
The crew will spend five days in orbit wearing SpaceX-designed extravehicular activity spacesuits for their spacewalk. Scientific research carried out onboard include venous gas emboli, space radiation, and Spaceflight Associated Neuro-Ocular Syndrome (SANS), among others. 
The Polaris Program chose a crew of experts comprising mission commander Jared Isaacman, an experienced ex-military aircraft pilot. The mission pilot will be Scott Poteet, a retired U.S. Air Force Lieutenant Colonel. Lead Space Operations Engineer at SpaceX, Sarah Gillis will join as mission specialist, while SpaceX's Lead Space Operations Engineer, Anna Menon, will be mission specialist and medical officer.