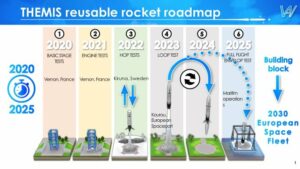 Zuerich/ Paris, 3 December 2021. – ArianeGroup has completed a series of tests of the European reusable first stage Themis, the European Space Agency (ESA) said.
ArianeGroup performed six tests at its site in Vernon in France to validate the fluidic and electrical processes and sequences of two test propellant tanks; the tanks were filled then drained of cryogenic propellants, ESA reported.
The initial project phase involves the preparation of the flight vehicle, firing demonstrations of its reusable Prometheus engine, and the preparation of the ground segment at the Esrange Space Center in Kiruna in Sweden for the first hop-test flights.
The completion of the tests in Vernon sets "a first technological milestone in the ESA reusability roadmap towards the demonstration of a reusable first stage vehicle", ESA said.
Through Themis, ESA aims to "assess the economic value of reusability for Europe while investing in new technologies for potential use in ESA's future fleet of launch vehicles", the agency said.