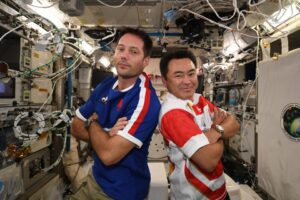 Edinburgh, 7 October 2021. – Thomas Pesquet became commander of the ISS this week, taking over from JAXA astronaut and fellow Crew-2 member Akihiko Hoshide. Thomas will hold this role until before Crew-2 return to Earth in November. He is the fourth European and the first French commander of the ISS.
Pesquet accepted his new position during a traditional ceremony of a key being handed over to him by Hoshide. Hoshide had been commander since 27th April. Although the overall command of the ISS remains with ground-based flight directors, the role of crew commander is essential. They hold responsibility for crew morale and wellbeing and they ensure that crew members can perform the required tasks. Thomas will hand over commander to Russian cosmonaut Anton Shkaplerov at the end of Expedition 65.
Four Crew-3 crew members, ESA astronaut Matthias Maurer, and NASA astronauts Thomas Marshburn, Raja Chari and Kayla Barron are set to arrive at the ISS this month. They will launch on a SpaceX Crew Dragon spacecraft from Launch Complex 39A at NASA's Kennedy Space Center on 30th October. Crew-3 will arrive at the ISS early 31st October for a short overlap with the Crew-2 astronauts.