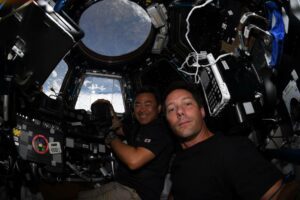 Edinburgh, 14 September 2021. – Astronauts Akihiko Hoshide of JAXA and Thomas Pesquet of ESA conducted the first spacewalk by two international partner astronauts without a NASA astronaut on Sunday, NASA reported. The event happened just three days after the Russian spacewalk. This was Hoshide's fourth and Pasquet's sixth extravehicular activity (EVA) and the 12th spacewalk of the year.
The task was to build a support fixture for a solar array blanket (iROSA) to be attached later. The astronauts also replaced the floating potential measurement unit, which measures the strength of electrical environment around the ISS.
Hoshide and Pesquet then gathered all their tools and configured their safety tethers to return to the Quest airlock. They began repressurisation at 3:09 p.m. ET, making the duration of the EVA six hours and 54 minutes. Currently the total space station EVA time is 1,541 hours and 54 minutes over 244 spacewalks since 1998.
NASA astronaut Mark Vande Hei was originally going to join Hoshide for Sunday's spacewalk but he had to be replaced by Pesquet after Vande Hei developed a pinched nerve in his neck.