During this week's Space Café, which was broadcast live from the United Nations' 2021 Outer Space Security Conference in Geneva, SpaceWatch.Global publisher Torsten Kriening and SpaceWatch.Global event coordinator Chiara Moenter had the chance to sit down with the new United Nations Director of the Institute for Disarmament Research, Dr Robin Geiss.
A German international law scholar, with over 20 years' global experience, Dr Geiss brings with him experience in peace and security, with a particular interest on the impact of new technologies on global disarmament.
Most recently, he served as Director of the Glasgow Centre for International Law and Security at the University of Glasgow and as the Swiss Chair of International Humanitarian Law with the Geneva Academy of International Humanitarian Law and Human Rights. He is also a Visiting Professor at the Paris School of International Affairs at Sciences Po in Paris.
This week – in SpaceWatch.Global's first-ever Space Café recorded in the field – Robin, Torsten and Chiara discuss the current global security environment and space's role in the United Nations disarmament goals.
A complex mix: disarmament in a time of global uncertainty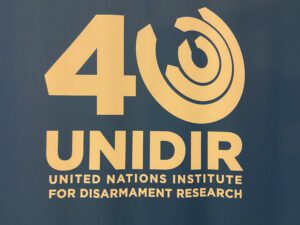 The United Nations Institute for Disarmament Research is an autonomous institution – which Robin says sits at a "unique nexus" – bringing together government, the diplomatic community, civil society, military and academia with the common goal of global disarmament.
Although the world has again become more volatile, with nations arming up and investing in security systems and weaponry, he believes the institute's work in researching disarmament to ultimately prevent conflict is ever-more important.
"Certainly, there is a sense of urgency that we need to do more in this field. Tensions are growing across various domains."

"Increasingly, there are new arms races in the digital sphere and not just across traditional military, spheres, but also scientific and economic lines."
Getting disarmament of out the box: the UN's 21st-century vision
Undeniably, the world has become more complex and integrated, which means the UN's process of disarmament must now encompass a wider range of activities to achieve their goals, that go far beyond the technical treaties of the 20th century.
So what are they doing and how does it involve space?
Increasingly, outer space is becoming a sphere of a new arms race. In response, UNIDIR's disarmament strategy is to bring all major players to the table.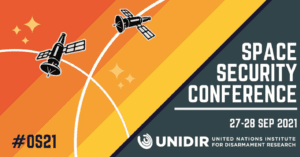 The conference, which has been supported by governments including China, Russia and France, facilitates an inclusive, constructive dialogue between industry, military, government and civil society stakeholders.
UNIDIR believes that while humankind's bigger footprint in space presents many opportunities for scientific understanding and technological improvement, there is a growing concern that competition for such resources could lead to conflict, with dire consequences for life on Earth.
During the conference, talks focused on geopolitical rivalries, dual-use technologies, space commercialisation, but also on solutions to ensure nations and actors work together more peacefully.
"I think we really all need to make an effort to focus more on constructive solutions. It's easy to describe all the trends out there that are so challenging – but it's much harder to really boil it down to what solutions going forward might be feasible.

"We hope that with this conference, we can help to improve international dialogue, around space issues to help to increase awareness about the changing dynamics in outer space and outer space policies – and what that means for disarmament debates, arms control debates in particular."
Climate change, too, has been a big focus for the young generation. Robin believes that if the world doesn't get it right on demilitarisation and disarmament, then the world isn't likely to get it right on climate change.
"If we don't disarm, if we don't manage to defuse the many tensions and conflicts that we're seeing around the world, then we're probably not going to get very far with any efforts in tackling climate change or implementing the Sustainable Development Goals."
To listen to Dr Robin Geiss's insights into disarmament, you can watch the full program here:
Space Café is broadcast live Tuesday at 4 pm CEST. To subscribe and get the latest on the space industry from world-leading experts visit – click here.
Luisa Low is a freelance journalist and media adviser from Sydney, Australia. She currently manages Media and Public Relations for the University of Sydney's Faculty of Engineering.